Chicken Cobb salad wrap recipe
Talk about simple! Talk about tasty! This recipe for chicken Cobb salad wraps is great for either lunch or dinner and makes a perfect take-along for a picnic.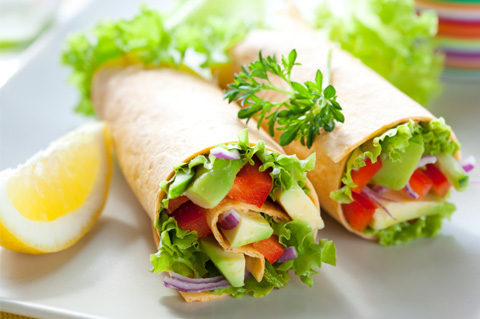 Chicken Cobb salad
Serves 4
When you're short on time, this recipe makes a great option for dinner. If you have leftovers to use up, you can easily turn them into a meal with this recipe. Part salad, part burrito, you and your family will think this dish is totally delicious!
Ingredients:
For the salad
2 cups rotisserie-cooked chicken, cubed (you could also used deli ham or turkey, cubes or slices)
3 cups romaine lettuce, torn into bite-sized pieces
2 small tomatoes, diced
2 hard-boiled eggs, cooled and diced
1 avocado, peeled and sliced
1/2 cup bleu cheese crumbles (optional)
1/4 cup sunflower seeds
4 (10-inch) tortillas
For the dressing
3/4 cup vegetable oil
1⁄4 cup extra virgin olive oil
1⁄4 cup red wine vinegar
1 tablespoon fresh lemon juice
3⁄4 teaspoon dry mustard
1⁄2 teaspoon Worcestershire sauce
1⁄4 teaspoon sugar
Salt and freshly ground black pepper
Directions:
Mix all the dressing ingredients in a blender and process until smooth.
In a medium-sized bowl, add the lettuce, chicken and dressing and toss so everything is coated. Gently toss in the tomato and egg.
Grill or heat the tortillas.
Add the salad mixture to the middle of each tortilla and top with the avocado slices, sunflower seeds and bleu cheese crumbles (if you're using them).
Fold the bottom portion of the tortilla toward the top and one side of the tortilla in toward the other. Roll up the tortilla and slice in half to serve on individual plates.
More salad recipes to try
Main course salads to satisfy your family
Grilled salad recipes
Healthy pasta salads