Lemon-seared shrimp with veggies and orzo pasta
Shrimp has the ability to make you feel like you're on vacation or at a special occasion. The funny thing is that it's very easy to make and tastes great prepared with lemon, vegetables and pasta.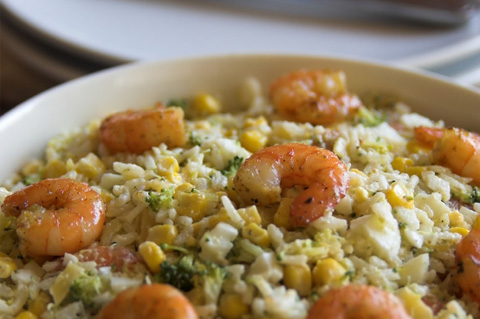 Lemon-seared shrimp with veggies and orzo pasta
Serves 4
Eaten in moderation, shrimp can be a great source for a heart-healthy diet. This dish is filling and it's easy to swap out the vegetables for those you might like better. Consider using whole-wheat pasta instead, too. If you don't have orzo pasta, you can use any other type of small pasta. What a way to make a weeknight meal special!
Ingredients:
1 cup orzo pasta (or substitute any small pasta)
12 ounces large shelled and deveined shrimp
1 cup carrot, diced
1 cup asparagus, stems trimmed
1 cup frozen peas
1/4 cup fresh lemon juice
2-1/2 cups water
1 table extra-virgin olive oil
1 teaspoon lemon zest
1/4 teaspoon dried thyme
Pinch of red pepper flakes
2 tablespoons freshly chopped parsley
Directions:
In a saucepan, bring the water to a boil over medium-high heat. Add the vegetables and boil for several minutes. Remove the vegetables from the water, but reserve the water and set them aside.
Add the pasta to the water and bring to a boil. Reduce to low and cook uncovered until most of the water is absorbed and the pasta is tender.
In a large bowl, toss together the shrimp, 1/2 teaspoon of lemon zest, thyme and the red pepper flakes.
Heat a large sauté pan over medium-high heat and add the shrimp mixture. Toss to cook (about 4 minutes). Reduce the heat to low and add the lemon juice. Mix everything together until well coated.
Add the vegetables, parsley and remaining lemon juice and zest to the pasta and toss in a large bowl.
Add the shrimp to the top of the pasta and serve warm.
More healthy recipes to try
5 Asparagus recipes for spring
Vegan one pot stir-fry
Mashed cauliflower recipe
---
More From SheKnows Explorer
---
---