Not the Perfect Cook: Easy Mother's day brunch menu
An elegant brunch does not have to mean an expensive or difficult brunch!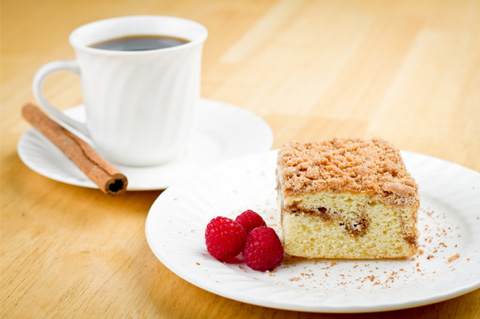 I am so blessed to have the greatest mom. I was loved, nurtured and encouraged growing up, to the point where I believed I could do and be anything. Those are the gifts I want to pass on to my daughter. Sharing recipes with our loved ones ensures that special occasions like Mother's Day will include those precious family members, even after they have passed away.
It would be fantastic to grab all of your favorite moms (your mom, your like-a-mom and your girlfriends who are moms) and go on a tropical vacation. Since that would be a tad bit expensive, throw a laid-back brunch with easy recipes, instead. These taste great and will allow you to laugh and visit with your guests instead of cooking the whole time. On the menu, mango bubbly, mango avocado crab bites and easy coffee cake. Happy Mother's Day!
Easy coffee cake
Serves 12-14
My sweet aunt Willene gave this recipe to me. Though she passed away several years ago, I always think of her when I make this. Her twin (my great-aunt Earlene -- who is still living) and I used to talk about how much we love this simple coffee cake!
Ingredients:
1 package yellow cake mix
1 package butterscotch instant pudding (can use vanilla)
4 eggs
1 cup vegetable or canola oil
1 cup water
1 cup brown sugar
1 cup chopped nuts
1 tablespoon cinnamon
Directions:
Mix the first five ingredients together in a mixing bowl on low speed.
Mix brown sugar, nuts and cinnamon together and set aside.
Put half of the cake batter in a greased 9 x 13-inch pan.
Sprinkle half of the cinnamon-nut mixture on top.
Pour the remaining batter on top of the cinnamon-nut mixture and sprinkle the rest of the cinnamon-nut mixture on top of the batter.
Bake at 350 degrees F for 50 minutes to 1 hour.
Mango bubbly
Serves 4-6
Ingredients:
Mango nectar (or fresh mangos that you have puréed)
Cava (Spanish sparkling wine, but you can use Prosecco or Champagne)
Mango slices
Fresh raspberries
Directions:
Place mango nectar (or purée) in the bottom of a Champagne flute.
Pour cava on top.
Skewer a mango slice on a toothpick, placing a raspberry at the tip of the toothpick (to hide the edge).
Garnish toothpick across top of flute.
Note: When making mimosas or any type of drink where you add juice or other liquors, you can buy an inexpensive Champagne, Prosecco or cava -- and still enjoy the bubbly.
Mango avocado crab bites
Makes 15
Ingredients:
Juice and zest from 2 large limes
1 mango, peeled and diced
1/2 cup red onion, diced
1/2 cup red bell pepper, diced
1 handful cilantro, chopped
2 avocados, diced
1 pound jumbo lump crabmeat
1/2 teaspoon cayenne pepper
1/2 teaspoon cumin
1 box fillo cups (found in freezer section)
Directions:
Squeeze the lime juice into a bowl and add the zest, mango, red onion, red bell pepper and cilantro.
Next, gently stir in the avocado and crabmeat.
Add seasonings (cayenne pepper and cumin) then toss one last time.
Spoon crab filling into fillo cups and serve.
Try these other brunch recipes
Full Sunday brunch
Recipes for an elegant brunch
Easy elegant brunch
---
More From SheKnows Explorer
---
---