Edible flower recipes
Flowers can add color and flavor to your plate. Edible flowers can be added to everything from soups and salads to pasta and desserts. Read on to learn more about how to choose and use edible flowers in your next meal.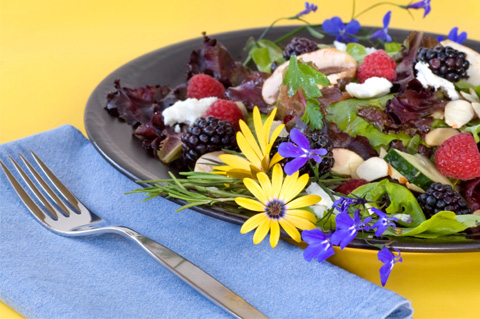 Which flowers are edible?
Many common flowers are edible, including the flower buds from artichoke, broccoli, cauliflower, squash and a number of other fruit and vegetable plants. Chrysanthemums, daisies, hibiscus, honeysuckle, marigolds, roses and sunflowers are popular choices to dress up any plate. While carnations, lilacs, pansies, tulips and violets are also often used in salads and other dishes.
Some flowers are completely toxic, while others, only certain parts are edible or become edible with particular preparations. Also keep in mind that the pollen of flowers can cause allergic reactions. Common flowers and flowering plants to avoid include: azaleas, calla lilies, daffodils, hydrangeas, petunias and rhododendrons. What's Cooking America and About.com Home Cooking offer some wonderful information on choosing edible flowers. Check with your local gardening store or other expert if you are not sure about a particular flower or plant.
What do flowers taste like?
The tastes of flowers vary tremendously. The petals of carnations are sweet and often added to candy and desserts. Chrysanthemums can be tangy, peppery or slightly bitter. The petals can be used in anything from salad to stir fry. Dandelions are sweet and honey-like -- particularly when they are young. Lilacs are very fragrant and possess a lemony flavor. Hibiscuses have a cranberry-like flavor and their petals are suitable for salad or tea. The petals of tulips taste like sweet lettuce, while sunflowers taste similar to artichokes. Experiment with different types of flowers to find the ones that you love.
Bow tie shrimp pasta with edible flowers
Serves 6
For this recipe, you can use any type of flower you like. However, it works best with petals that are slightly peppery or lemony.
Ingredients:
1 pound bow tie pasta
3 fish bouillon cubes dissolved
1 jar Alfredo sauce
1/3 cup of heavy cream
1-1/2 pounds of salad-size cooked shrimp
1-1/2 cups flowers
Directions:
Cook the pasta in equal parts water with the dissolved bouillon cubes.
While pasta is cooking, mix Alfredo sauce and heavy cream together in a large saucepan over low heat.
Drain pasta and then toss shrimp and flowers into pasta. Pour sauce over pasta and toss.
Edible flower and clementine salad
Tropaeolum (commonly known as nasturtium) is a genus of flowering plants that features brightly colored flowers that are ideal for eating. The leaves and flower petals have a distinct peppery flavor, making the perfect colorful addition to any salad. Create a beautiful salad kids and adults will both like by mixing your favorite greens with nasturtium as well as some citrus fruit (like clementine orange slices) for a nice contrast in flavor.
More spring recipes
Healthy snacks for spring
How to make a spring quiche
Lighten up: Spring salad recipes