Not the Perfect Cook: Cinco de Mayo fiesta recipes
No habla Español? No hay problema. Even Not the Perfect Cook can teach some easy, Mexican foods that are delicioso for your Cinco de Mayo party.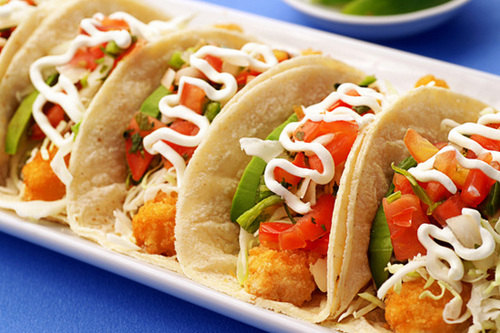 Fish beer tacos
Serves 8
You do not have to live south of the border to know how to put a delicious Mexican meal on your table! Mexican food is delicious, inexpensive and when prepared at home, healthy! Leave the keys on the counter, because this Cinco de Mayo party is taking place at home! Easy to throw together, this meal will allow you to spend the extra time savoring a margarita and brushing up on your Spanish with friends!
Ingredients:
2 pounds tilapia, cut into large chunks
2 cups all-purpose flour
1 teaspoon ground cayenne pepper
1 teaspoon cumin
1 teaspoon complete seasoning
1 bottle of beer (I prefer a good India Pale Ale, for flavor)
Vegetable oil (enough to fill your skillet half-way)
Flour tortillas
Shredded lettuce/red cabbage
Cilantro-lime cream sauce (recipe below)
Directions:
In a large skillet (cast-iron skillet works best), preheat the oil to a medium-high heat.
Using two pie plates or cake pans, fill one with 1 cup of flour and the next with the flour and dry seasonings.
Whisk flour and seasonings (in second pan) then slowly add your beer, whisking. (You want the batter to be a smooth consistency -- not too thick that you cannot work with it.)
Place fish chunks in the plain flour first, tossing to coat, then lightly shake off extra flour.
Dredge fish through beer batter.
Add fish to hot oil, a little at a time so they all cook evenly -- about 5 minutes.
Drain fish on a paper-towel lined plate while you cook the rest of the fish.
Serve in warm flour tortillas with shredded lettuce, cilantro-lime cream sauce or guacamole and sour cream.
Homemade Mexican beans in a crockpot
Serves 8
Serve these delicious beans in burritos or as a side dish for your fiesta!
Ingredients:
1 large bag (2 pounds) pinto beans
2 chicken bouillon cubes
2 tablespoons complete seasoning mix (typically contains garlic salt/powder, oregano, onion)
1 tablespoon cumin
1 tablespoon oregano (dried)
1 teaspoon ground cayenne pepper
1 white onion, quartered
10 to 12 cups water
2 tablespoons butter (to add at the end)
Directions:
Rinse beans in a colander.
Place beans in a crockpot.
Add seasonings, onion, chicken bouillon cubes and water.
Place the lid on the crockpot and cook on low for at least 8 hours, stirring occasionally. (It can cook for 24 hours and they are melt-in-your-mouth delicious!)
When ready to serve, ladle beans into a large, serving bowl with 2 tablespoons of butter and mash.
Freeze any leftovers in zip-top freezer bags.
Cilantro-lime cream sauce
Yields 1 cup

Ingredients: 
1 bunch cilantro, stems removed
1 cup sour cream (or Greek yogurt)
Juice from 1 to 2 limes
Zest from 1 lime
Salt and pepper to taste
Directions:
In a blender (or by hand) combine cilantro, sour cream, lime juice and lime zest. Add salt and pepper, blend together and serve on fish tacos.
Triple berry frozen margaritas
Serves 4
Ingredients:
1 pint strawberries, sliced and stems removed
1/2 pint blueberries
1/2 pint raspberries
1 cup tequila
2 to 3 tablespoons sugar (depending on your taste)
Juice from 1 lime
Directions:
Place all of the ingredients in a blender and blend until smooth.
Strain through a fine mesh strainer to remove the seeds. (Taste to see if your mixture is sweet enough. If not, you can add a bit more sugar and run everything back through the blender, if necessary.)
Pour into a gallon-sized freezer bag.
Freeze and then thaw shortly before serving, squeezing the bag with your hands to loosen up mixture, then pour into glasses!
More Mexican recipes for fiestas
Easy chicken enchiladas
Mexican agavero on the rocks
Mexican chihuahua cheese tortilla casserole
---
More From SheKnows Explorer
---
---