7 Ingredient marinara recipe
As delicious as homemade marinara is, not all of us have a few hours to sit by the stove as our sauce simmers and thickens with style and grace. In fact, some of us are lucky if we even get 20 minutes to cook, prepare and eat our meals! However, don't let time be the reason you resort to store-bought Prego when you really want a Giada-style sauce. Instead, whip up this super quick and delicious, seven-ingredient marinara next time it's pasta night!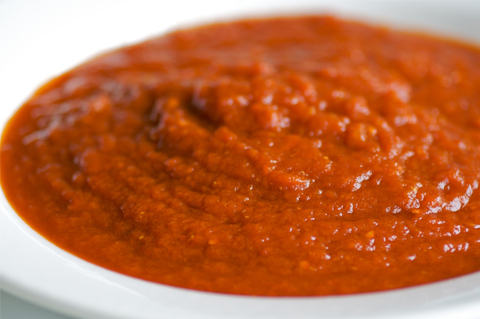 There are really only 7 ingredients in that delicious looking sauce, which makes it not only easy, but super budget friendly too. Plus, you can freeze extra sauce so you'll never run out! (Unless you're in my house where it's put on everything.) So maybe make two batches instead of one... trust me, it's that good.
7 Ingredient marinara
Serves about 8 
Ingredients
2 tablespoons olive oil
3 cloves garlic, minced
1 cup mushrooms, chopped
1 (28 ounce) can crushed tomatoes
1 (28 ounce) can tomato purée
1/2 cup Parmesan-Romano cheese
4 tablespoons Italian seasoning (like this)
* Plus liberal dashes of salt and pepper
Directions: 
Heat oil in a large pot over medium-high heat. Add garlic and cook until just fragrant, about 3 minutes. Add mushrooms and cook until soft.
Add in crushed tomatoes, purée, cheese, Italian seasoning and salt and pepper. Reduce heat to low and simmer for at least 25 - 30 minutes. Add additional salt and pepper to taste and serve over your favorite Italian dishes!
Simple, easy and absolutely delicious!
More quick and easy recipes
3 Quick & easy chicken recipes using stock
Quick and easy homemade ranch dressing
Quick and easy takes on baked potatoes