Earth Day recipes for kids
Celebrate Earth Day with your kids by making butterfly cookies, bug brownies, dirt cups and other yummy Earth Day snacks. Check out these Earth Day recipes for kids.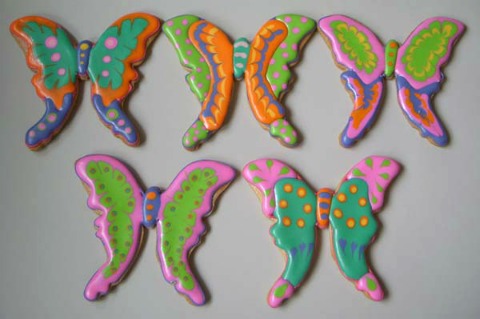 Butterfly cookies
Break out your cookie cutters and make colorful butterflies and other shapes that depict nature. Your butterfly cookies don't have to be picture perfect like the ones here. Just use your favorite sugar cookie dough and allow your kids to do the decorating with tube icing in assorted colors.
Bug brownies
Make your favorite brownies and top them with a layer of chocolate icing. Rather than spreading the icing smooth, use a fork to create a bumpy dirt-like texture. Top the brownies with gummy spiders and bugs, and decorate with green icing to create trees, bushes and grass.
Ants on a log
With a little celery, peanut butter and raisins, you can create Ants on a Log -- a yummy and healthy snack that young kids love. Also try this sweet version of Ants on a Log that uses Nutella and dried cranberries.
Veggie flowers
Arrange veggies on a plate in the shape of flowers to make a healthy snack that your kids will adore. Use cucumber, radish and carrot slices to create the flower petals, cherry tomatoes for the center of the flowers, celery stalks for the stems, and spinach leaves or other greens for the leaves and grass.
Dirt Cups
Serves 8
Using chocolate pudding, Oreo cookies and gummy worms, you can make an Earth-inspired treat that your kids will love on Earth Day and any other day of the year. This recipe was adapted from the Kraft Foods version.
Ingredients:
1 package (3.9 ounce) Jell-O chocolate instant pudding
2 cups cold milk
1 tub (8 ounce) Cool Whip whipped topping, thawed
16 chocolate sandwich cookies, finely crushed, divided
Gummy worms, spiders and insects
Directions:
Beat pudding mix and milk in a large bowl with a whisk for 2-3 minutes. Let stand for 5 minutes and then fold in the whipped topping along with 1/2 cup of cookie crumbs.
Spoon into 8 (7 ounce) paper or plastic cups and top with remaining cookie crumbs. Refrigerate for 30 minutes and then add gummy candies right before serving.
You can make sand cups instead of dirt cups by using vanilla crème sandwich cookies or vanilla wafers instead of chocolate.
More about Earth Day
Celebrating Earth Day with kids
9 Earth Day traditions kids will love
Teach kids about Earth Day