3 Knock-off Olive Garden recipes
Eating out really adds up, especially for a family. Skip the long wait at the restaurant and have an Olive Garden-inspired feast in your very own dining room!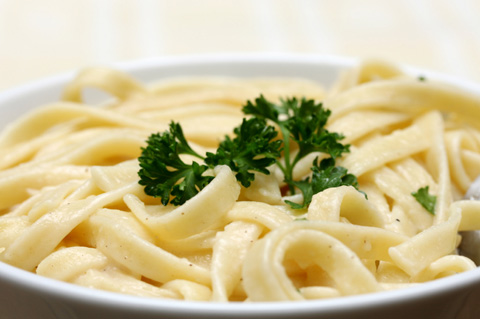 Olive Garden Alfredo recipe
Serves 4-6
Ingredients:
1 pound fettuccine pasta
2 cups heavy whipping cream
1/2 cup butter
1-1/2 cups freshly grated Parmesan cheese
1/2 cup freshly grated romano cheese
2 cloves finely minced garlic
1/2 teaspoon freshly ground black pepper
Directions:
Heat water to boiling in a large pot. Boil fettuccine noodles until they are al dente. Drain the pasta and return it to the warm pot and set aside.
Put the cream, butter, garlic and pepper in a medium saucepan and bring to a simmer. Allow the sauce to simmer for 5 minutes, stirring constantly.
Slowly sprinkle the cheeses into the cream mixture until the cheeses are completely melted. Toss the sauce with the pasta until the pasta is evenly coated.
Olive Garden breadsticks recipe
Makes 12 breadsticks
Ingredients:
1-1/2 cups warm water
1 package active dry yeast
2 tablespoons sugar
4-1/2 cups all-purpose flour
2 tablespoons plus 1/2 cup melted butter
1 tablespoon plus 2 teaspoons garlic salt
1 tablespoon garlic powder
Directions:
Combine warm water, yeast and sugar in a large bowl. Cover with a towel and allow the yeast to dissolve for approximately 10 minutes.
Add the flour, 2 tablespoons melted butter and 1 tablespoon garlic salt to the yeast mixture. Mix all ingredients until they form a dough. Knead the dough until it is an even consistency. Do not over knead.
Divide the dough into 12 equal parts and roll the dough pieces into a breadstick shape. Place the breadsticks on a well greased cookie sheet.
Cover the breadsticks with a towel and allow them to rise for 45-60 minutes.
Preheat the oven to 400 degrees F. Once heated, bake the breadsticks for 12-15 minutes.
Mix 1/2 cup melted butter, 2 teaspoons garlic salt and 1 tablespoon garlic powder in a small bowl. Once the breadsticks are removed from the oven, use a basting brush to brush the butter mixture over the top of the breadsticks.
Olive Garden salad dressing recipe
Makes approximately 2 cups
Ingredients:
1/2 cup mayonnaise
1/3 cup white wine vinegar
1/4 cup freshly grated Parmesan cheese
1/4 cup freshly grated romano cheese
2 tablespoons extra virgin olive oil
2 tablespoons corn syrup
2 tablespoons lemon juice
1/2 teaspoon garlic powder
1/2 teaspoon garlic salt
1 teaspoon Italian seasoning
Directions:
Blend all ingredients in a blender or mix with a hand mixer until all ingredients are well combined.
Top it off with these delicious Italian dessert recipes
Classic tiramisu recipe
Divine Italian desserts from Francine Segan
Delicious Italian desserts