Easy sweet and sour chicken with vegetables
Chicken is a typical go-to, main ingredient for many meals -- but sometimes you want something a little different from the usual baked or grilled chicken dishes. This could be the meal for you!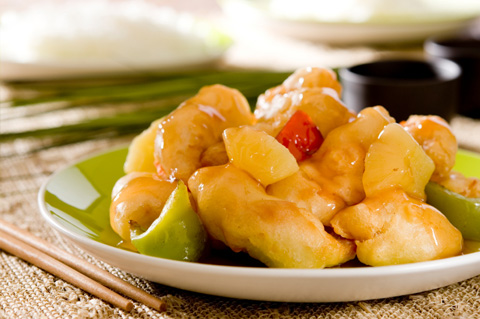 This is a quick-fix dinner that is colorful and delicious, perfect for the entire family. The chicken cooks pretty fast, and if you choose to use quick-cooking rice, it couldn't get much easier to put together a wonderful, one-dish meal. The green beans and carrots make a crunchy and colorful addition.
Easy sweet and sour chicken with vegetables
Serves 4
Ingredients:
1 cup of brown rice
1-1/2 pounds boneless, skinless chicken breast, diced into small pieces
1 cup carrots, cut into thin slices
1/2 pound green beans, trimmed and cut in half
2 cloves garlic, minced
1 tablespoon cornstarch
1/4 cup sugar
1/4 cup reduced-sodium soy sauce
1/4 cup white vinegar
1 tablespoon vegetable oil
Directions:
Cook the rice according to the package directions and keep it warm.
In a small bowl, whisk together the cornstarch, reduced-sodium soy sauce, vinegar and sugar and set aside.
Add the vegetable oil to a wok (or large skillet) over high heat. Add the chicken, carrots and green beans and cook for about 5 minutes, or until the vegetables begin to soften, but are still firm.
Add the garlic to the mixture and continue to cook everything until the chicken is finished (maybe another 5 minutes).
Add the liquid mixture to the skillet, stirring, until the sauce thickens.
Add rice to individual plates and top with the chicken and vegetables.
More chicken recipes to try
Chicken and broccoli pie
Mediterranean chicken and polenta
Chicken bundles with vegetables and cheese