Homemade French bread recipe
There's nothing better than getting to enjoy a French baguette fresh out of the oven -- where the outside is just perfectly crispy and the inside is moist, fluffy and delicious. Instead of paying $5 for a loaf at the store, make your own at home with this few-ingredient recipe.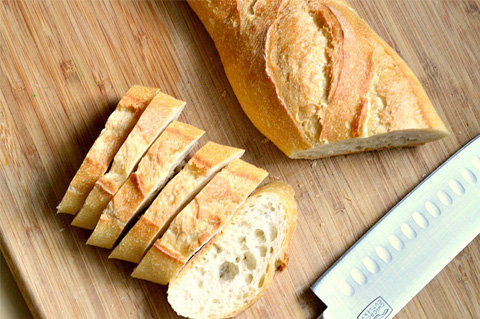 Although this beautiful bread requires only a few ingredients, it requires a bit more patience. Yeast is very temperamental, so don't beat yourself up if your first batch doesn't come out perfect. Keep trying and you'll have bakery-style French bread in no time!
Recipe adapted from Cooking Light.
Homemade French bread

Yields 2 (12-inch size) baguettes
Ingredients: 
1 package active dry yeast
1-1/4 cups warm water (110 degrees F)
3 cups bread flour
Pinch of salt
Cooking spray
1 egg white, beaten
Directions: 
Mix yeast and water in a large bowl and let sit for 5 minutes or until yeast starts to bubble up. Once bubbled, add in about 2-1/2 cups of flour and mix well until a dough forms. Cover and let rest for about 15 minutes.
Once dough has rested, place on a floured surface and knead, adding the remaining 1/2 cup of flour, until dough is elastic, about 6 - 8 minutes of kneading. Once dough is done being kneaded, place in a bowl covered in cooking spray and cover. Place in a warm place and let rise until doubled in size, about 45 minutes.
Once dough has doubled, punch down and then let sit another 5 minutes. Split dough in half, covering the other half so it doesn't dry out. Place dough on a floured surface and roll out into a 12-inch rope (with your hands). Place on a baking sheet. Repeat with other half of dough. Cover and let rise again for at least 20 minutes or until loaves have doubled. Using a knife, cut slits into the top of the dough.
Preheat oven to 450 degrees F. Once dough has doubled, brush gently with egg whites and bake for 20 minutes or until golden brown.
More bread recipes
Homemade bread recipes for your bread machine
Gluten-free Friday: Sandwich bread
Savory bread pudding recipe