Not the Perfect Cook: 3 Ingredient salad for Earth Day
Want to eat healthy? Two of these three ingredients are from the earth!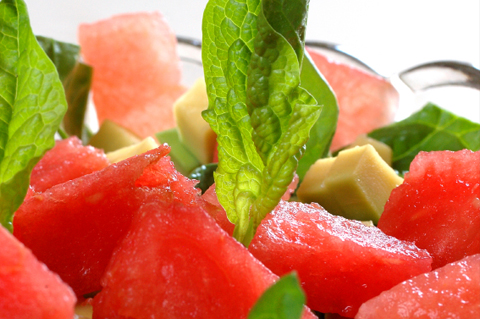 Bathing suit season... Three words that can send women of all ages into panic mode. But have no fear because the Not the Perfect Cook is here to share my favorite salad recipe with you in honor of Earth Day! You may certainly add anything else to this salad that you enjoy, but with three simple ingredients, this is the go-to salad for my spring and summer lunches. So many people wrinkle up their noses at the thought of spinach, but the taste is so light and the health benefits are incredibly filling.
Spinach contains antioxidants that help fight cancer, heart disease, as well as aging on your brain. It is great for your skin, promotes strong bones, healthy vision and a healthy stomach. Spinach is great for you, from your head to your toes. Watermelon contains lycopene, which also reduces the risk of heart disease and cancer, so with just two of these great, earthy ingredients, you are not only enjoying the tastes but you are doing something super great and healthy for your body.
If you would like to dress this up, you can add leftover grilled chicken breast or throw in some toasted almonds or walnuts. The simplicity of this great-tasting salad is what makes it so great. The juice from the watermelon acts as a dressing so that nothing else is needed -- making this a truly healthy salad -- light on the ingredients but heavy on the benefits!
Spinach watermelon salad
Serves 1
Ingredients:
1 to 2 cups fresh spinach
1/2 cup fresh watermelon, cubed
2 tablespoons reduced-fat feta cheese
Directions:
Place spinach in a bowl and add watermelon and feta cheese.
Toss ingredients to coat the spinach and enjoy!
Enjoy some of these spinach salads
Citrus spinach salad
Baby spinach salad with red onions
Berried spinach salad