3 Easy no bake appetizer recipes
You just got word that your daughter's soccer team and all the moms are coming over to celebrate their big win. That means you have less than 20 minutes to throw together some delicious, cute party appetizers that both the kids and moms will like. Instead of speeding to the store to buy pizza rolls and cubed cheese, try your hand at these quick, no bake appetizers that are not just easy, but elegant and delicious!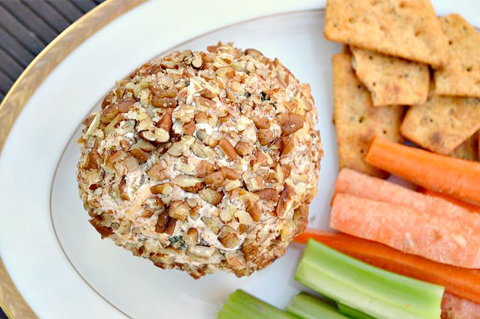 These delicious and pretty apps are stress-free, so you can enjoy your get-together instead of sweating through it! Plus, it is your party, so have a little wine, won't you? I mean, you did spend all this time putting together these beautiful appetizers. (I won't tell if you won't.)
Nutty cheese ball
Serves about 10
This is one app that will be eaten up before you even get a chance to try it! Made with cream cheese, fresh basil and crunchy nuts, this is a favorite with adults and kids alike. Serve it with some fresh veggies or chips and watch it disappear. If you'd prefer, you can also use pecans or almond slivers to roll the cheese in!
Ingredients: 
16 ounces Neufchatel (or low-fat cream cheese)
2 cups cheddar cheese
6 large pitted green olives, chopped
3 basil leaves, finely chopped
1-1/2 tablespoons Italian seasoning
1 teaspoon lemon juice
1/2 cup chopped walnuts
Directions: 
Mix cheese, olives, basil, Italian seasoning and lemon juice together. Form a ball with the cheese and roll in the nuts to completely cover the outside.
Place in foil and refrigerate for at least 30 minutes.
Once cheese ball has chilled, serve with chopped vegetables or crackers and enjoy!
Double chocolate cookie dough dip
Yields about 1-1/2 cups.
This dip will be a huge hit with your kids because it tastes exactly like cookie dough! Plus, since it's made with no eggs, you don't have to scold them or scare them with salmonella threats. However, don't think the adults won't eat this up too. Note to the wise... double or triple this because it'll go fast! Omit the cocoa powder if you'd prefer traditional chocolate chip cookie flavor!
Adapted from How Sweet It Is.
Ingredients: 
1/2 cup butter
1/4 cup brown sugar
2 tablespoons white sugar
8 ounces light cream cheese
1/2 cup powdered sugar
1 teaspoon vanilla
1/4 cup unsweetened cocoa powder
1 cup milk chocolate chunks
Directions: 
Melt butter in a sauce pan over medium-high heat. Add brown sugar and white sugar and whisk until sugar has completely dissolved. Remove from heat and add in vanilla.
In a medium size mixing bowl, mix cream cheese and powdered sugar until creamy. Add in the sugar butter mixture and mix until it is fully combined. Add chocolate chips (about 1/4 cup at a time) using a spatula to fold in. Serve with cookies, fresh fruit or pound cake and enjoy!
Salmon crostini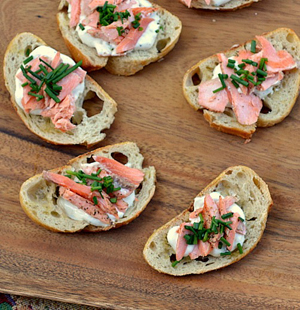 Yields 12
So this recipe may be more geared towards the adults, however, some kids may actually enjoy it! These crisp, crunchy crostinis are a perfect bite-size snack that are not only tasty but are super healthy! Plus, it's a great way to use up that leftover salmon you made for dinner. If you don't have (or like) salmon, you can also use shrimp, chicken or beef!
Ingredients:
Crispy French bread, cut into 8 thin slices
8 ounces of broiled, grilled or smoked salmon
Chives for garnish
1/4 cup light mayonnaise
1/4 cup low-fat sour cream
1/4 cup fat-free Greek yogurt
1/2 lemon, zested and juiced
2 tablespoons chopped chives
Salt and pepper
Directions: 
To prepare the sauce: Mix together sour cream, mayonnaise and Greek yogurt. Stir in lemon juice, lemon zest and chives. Sprinkle with salt and pepper to taste. Cover with plastic wrap and chill for at least an hour
Place a dollop (about 1 – 2 teaspoons) of sauce onto the middle of the bread. Add about 1 tablespoon of flaked salmon to the top of the sauce and sprinkle with chives. Squeeze with a little fresh lemon juice if you want and eat, enjoy and repeat!
More quick and easy recipes
5 Quick and easy grilled recipes
Quick and easy hot wings
Quick meal ideas for moms on the go
---
More From SheKnows Explorer
---
---