Mother's Day picnic recipes
Instead of taking mom out to brunch, plan a family picnic at a local park, the beach or atop a mountain with a gorgeous vista. An afternoon of breathing in fresh air, getting some exercise and feasting on healthy gourmet picnic recipes will be the best gift you can give mom for Mother's Day. Here are our favorite Mother's Day picnic dishes to pack in your picnic basket.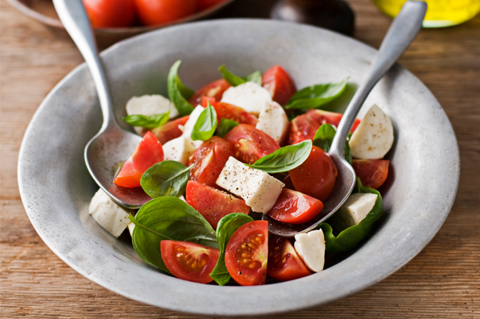 Caprese salad
Serves 6
A simple combination of ingredients that boast spring -- a caprese salad is a colorful and flavorful way to start your Mother's Day picnic meal.
Ingredients:
2 cups balsamic vinegar
4 large vine-ripe tomatoes, sliced
1 (16 ounce) container bite-sized mozzarella balls or bocconcini
1 small bunch fresh basil
Freshly ground black pepper
Directions:
Pour balsamic vinegar into a saucepan over medium-high heat. Bring to a high simmer and reduce heat to a low simmer. Reduce vinegar until it becomes a thick syrup. Set aside to cool. When cool, transfer it to a small Mason jar. Take the balsamic reduction with you to the picnic and drizzle it on your salad at serving time.
Place tomatoes in an airtight container. Pack tomatoes and the container of mozzarella in a cooler.
Pick basil leaves off of stems and pack in an airtight bag. Place it in the cooler.
When ready to serve, layer bowls or plates with tomato slices. Top with mozzarella balls and torn basil leaves. Drizzle with balsamic and season with pepper.
Prosciutto-wrapped melon
Serves 6
Salty and sweet, ripe cantaloupe slices wrapped with flavorful prosciutto is a delicious alternative to the caprese salad.
Ingredients:
1 cantaloupe, halved, seeded, peeled
12 slices of very thinly sliced prosciutto
Directions:
Cut cantaloupe into 12 wedges. Wrap a slice of prosciutto around each wedge.
Pack prepared melon wedges in an airtight container and place in a cooler. Serve chilled.
Goat cheese cherry sandwiches
Serves 6
Goat cheese and fruit are an elegant pairing that can turn a mundane picnic sandwich into an attention-getting lunch munch. For an extra special treat, use The Gracious Gourmet Spiced Sour Cherry Spread.
Ingredients:
Directions:
Spread one side of six bread slices with goat cheese. Spread cherry preserves on one side of the remaining bread slices.
Sprinkle almonds over goat cheese and assemble sandwiches.
Wrap each sandwich tightly in plastic wrap or slip into reusable sandwich bags or containers.
When ready to serve, cut sandwiches in half or in fourths.
Cook's note: If you aren't a fan of goat cheese, swap it out for cream cheese or brie.
Dark chocolate blondies
Yields 8
Instead of the usual brownie box mix, surprise mom with these scrumptious from-scratch blondies.
Ingredients:
1 cup chopped white chocolate (we love Lindt Excellence Vanilla White Chocolate)
1/4 cup butter, softened at room temperature
1/2 cup granulated sugar
2 teaspoons pure vanilla extract
1/4 teaspoon ground cinnamon
1/2 teaspoon sea salt
2 eggs
1-1/4 cups white whole wheat flour
1/2 teaspoon baking powder
1 cup coarsely chopped dark chocolate
Directions:
Preheat the oven to 350 degrees F and grease a 9-inch square pan.
In a double boiler, combine white chocolate, butter and sugar. Stir until white chocolate is melted and the mixture is smooth.
Remove chocolate mixture from heat and stir in vanilla, cinnamon and salt. Let mixture cool to room temperature.
Beat eggs into the chocolate mixture one at a time.
In a medium bowl, whisk together flour and baking powder. Stir flour mixture into the chocolate mixture.
Stir in dark chocolate. Pour batter into the prepared baking pan.
Bake for 25 minutes or until golden brown. Let cool in pan for 5 minutes on a wire rack.
Invert blondie onto a wire rack and allow to cool completely. Move to a cutting board and cut into 8 bars.
Wrap each bar individually in plastic wrap or layer with waxed paper in an airtight container.
More Mother's Day picnic tips
Picnic accessories for comfy outdoor dining
Yummy Mother's Day picnic recipes
Plan a healthy picnic
---
More From SheKnows Explorer
---
---