Homemade pita bread recipe
You've had the plain ol' chicken and rice for dinner for the past few days and you want something different -- maybe something with a Middle Eastern flair. So you run to the store to pick up kabob ingredients. However, before you throw in a bag of pre-made pita to your cart, check out this recipe first! This homemade pita is super easy and tastes just like the fluffy, fresh pitas you get when you go out to high end Mediterranean and Middle Eastern restaurants. Trust me, one bite into one of these puffy, warm pitas and you'll never buy another bag again!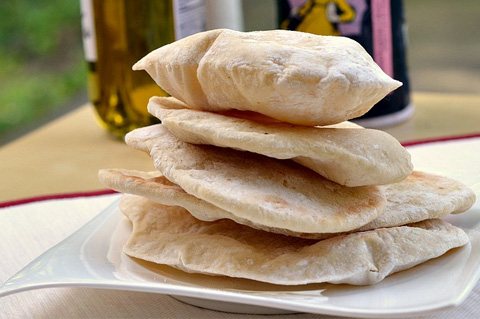 Although these beautiful pitas take a little bit of time to create, the end result is well worth it. You'll have restaurant-quality pita bread and something your whole family will enjoy! Plus, this bread is perfect dipped in olive oil, if you're not a hummus person.
Homemade pita bread
Yields 12 pieces of bread
Ingredients: 
1 package of active dry yeast
1/2 cup warm water (110 degrees F)
1 teaspoon sugar
3 cups all-purpose flour
Dash of salt
3/4 cup warm water (100 degrees F)
1 tablespoon olive oil
Directions: 
Mix yeast, 1/2 cup warm water and sugar together in a shallow bowl. Let sit for 15 minutes, or until mixture is foamy.
In a large mixing bowl, mix together salt and flour. Make a well in the middle and pour yeast inside. Gradually add 1 cup of warm water and mix well. Add olive oil.
On a floured surface, knead dough until elastic, about 10 minutes. Place dough in a bowl that has a dash of oil at the bottom (to prevent sticking) and cover with a warm towel or plastic wrap. Let rise in a warm room for at least 2 hours, or until dough has doubled in size.
Remove from bowl and roll out to a thin rope formation. Pull off 12 pieces of dough. Cover dough balls with an upside mixing bowl for at least 10 minutes.
Preheat oven to 500 degrees F. Roll out each dough ball into a flat circle, about 5-inches wide and 1/3-inch thick. Place about three circles on a lightly greased baking sheet and bake for 4-1/2 minutes. Flip each pita over and bake an additional 2 to 2-1/2 minutes, or until dough has puffed and has golden spots. Repeat until all pita has been cooked and enjoy!
To store, place pita in a Ziplock storage bag and keep in the refrigerator.
More homemade favorites
Homemade beignets recipe
Homemade peanut butter recipe
Homemade spiced rum