Low-fat dessert: Strawberry angel food trifle recipe
This dish has the amazing ability to look spectacular with very little effort. The next time you bring a dessert to a church potluck or neighborhood barbecue, whip up this trifle recipe. Made with fat-free ingredients, you can enjoy a decadent dessert without any added guilt.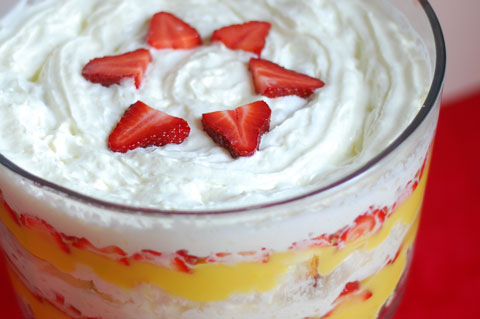 High in flavor but low in fat, this strawberry angel food trifle recipe is sure to become your go-to dessert recipe to serve for a crowd. It's simple to make, but pretty when assembled and definitely adds the wow factor that your guests will love.
Strawberry angel food trifle recipe
Serves 8-10
Ingredients:
1 box fat-free vanilla pudding mix
2 cups of fat-free milk
1 box of angel food cake mix
1 (8 ounce) tub of fat-free whipped cream
1 pound of strawberries
Directions:
In a small bowl, combine vanilla pudding mix with the two cups of milk. Place the pudding in the refrigerator to firm up.
While the pudding cools, prepare and bake the angel food cake mix according to package instructions. Once it is fully cooked, remove the angel food cake from its pan. Once cooled, slice the angel food cake into 1-inch cubes.
Remove the tops of the strawberries and slice the strawberries into 1/4-inch slices.
In a trifle dish or other large glass bowl, place one half of the angel food cake in a layer at the bottom of the bowl. Spread one half of the pudding mix in a layer on top of the angel food cake, then sprinkle half of the strawberries over the top of the pudding layer. Top the strawberries with one half of the whipped cream.
Repeat the process by adding another layer with the remaining half of angel food cake, pudding, strawberries and whipped cream.
Refrigerate for 20 minutes before serving.
More delicious dessert recipes
3 Healthy chocolate dessert recipes
Jell-O dessert recipes
Citrus dessert recipes