Easy appetizer: Veggie roll-ups
Veggie roll-ups are always a huge hit with grown-ups as well as kids. The prep work for this easy appetizer takes less than 15 minutes and they keep well in the fridge until friends and family arrive. You might want to make a double batch because they will be gone before you know it!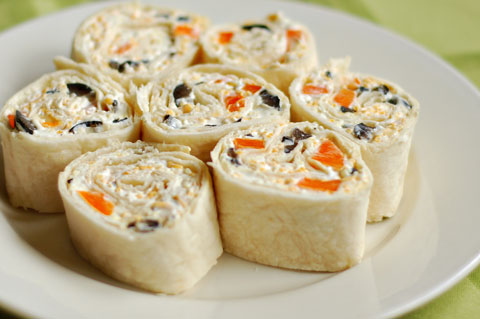 You'll be a big hit at your next party for serving these veggie roll-ups. They are filled with delicious cheese, finely chopped veggies and savory spices that your guests will love. You can make them up to a day ahead of time and keep them in the fridge until party time.
Veggie roll-ups
Makes 48 veggie roll-ups
Ingredients:
1 (8 ounce) tub of cream cheese
1 (8 ounce) tub of sour cream
1 cup shredded cheese, any variety
1 orange bell pepper, finely diced
1/4 cup fresh corn kernels
1/8 cup chopped black olives
1 teaspoon freshly ground black pepper
1 teaspoon Italian seasoning
6 (8 inch) flour tortillas
Directions:
In a large bowl, combine cream cheese, sour cream and shredded cheese. Add in finely diced bell pepper, corn kernels, chopped black olives, black pepper and Italian seasoning. Stir until well combined.
Lay out your tortillas and spoon 1/6 of the cheese mixture onto each tortilla and spread the mixture out in a thin and even layer over the tortilla.
Tightly roll up each tortilla. Place the rolled tortillas in the refrigerator for 1 hour. After refrigerating, slice the tortillas into 1-inch sections and serve.
More appetizer recipes to try
Retro appetizer recipes
Tortellini appetizer recipe
Artichoke appetizer recipe