Not the Perfect Cook: Coconut fish with peach habanero salsa
Want a tropical dinner? Make this instead of reservations!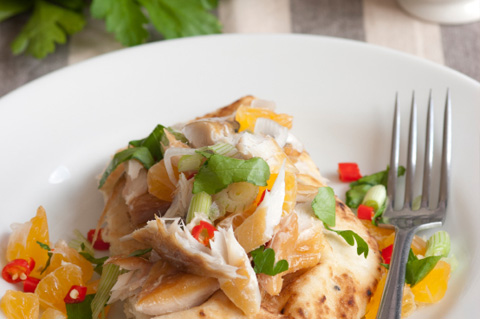 I am a beach lover and I am a peach lover. Something about being at the beach makes everything taste better. Then when it comes to peaches, I just feel like a kid all over again, enjoying that sweet juiciness. I have taken my love for the beach and beachy seafood and combined it with my love for peaches to make this dish.
I have become a big fan of shark steak because it is inexpensive and so easy to cook. You could substitute swordfish or mahi mahi or even snapper for the shark steak if you are unable to buy shark steak from your fish monger. Once you try this, you might think twice about making a reservation at your favorite tropical restaurant, because this is a fantastic getaway on a plate!
Coconut fish with peach-habanero salsa
Serves 4
For coconut fish:
Ingredients:
4 (6 to 8 ounce) shark steaks
1 can of coconut milk
4 tablespoons butter, melted
1/2 cup panko (you can use plain breadcrumbs or corn flakes pulsed with a food processor)
1 cup coarsely ground nuts (macadamia nuts or pecans)
1 cup shredded coconut
1/2 teaspoon sea salt
1/2 teaspoon ground black pepper
1/2 teaspoon cayenne pepper
Directions:
Preheat oven to 425 degrees F.
Soak the fish in about 1/2 a can of coconut milk for about 30 minutes to an hour before cooking.
In a pie pan or bowl, combine melted butter, panko (or breadcrumbs or corn flakes), nuts and coconut.
Remove fish from coconut milk and season fish on both sides with salt, pepper and cayenne. Dredge fish into coconut mixture, patting the mixture onto the fish.
Line a cookie sheet with aluminum foil and lightly spray the foil with cooking spray.
Place fish on foil-lined cookie sheet and bake for 15-20 minutes, or until the crust is golden brown.
Top with peach-habanero salsa.
For peach-habanero salsa:
Ingredients:
3 peaches, pitted and diced (skin removed)
1 mango, peeled and diced
1/2 cup red onion, diced
1 bunch of cilantro, chopped
1 habanero pepper, finely diced (careful not to touch your eyes!)
Pinch of salt and pepper
Juice of one lime
Directions:
Mix peaches, mango, red onion and habanero together in a small bowl.
Add lime juice, cilantro, salt and pepper and stir well.
*Tip for peeling peaches: Place peaches, 3 to 4 at a time in boiling water. Leave peaches in water for no more than one minute, then remove and immediately place in an ice water bath (a bowl of ice and water) to stop the cooking process. Starting at the top, remove the peel and it should fall right off.
More tropical recipes to make at home
Tropical scallop stir fry with papaya relish
Belize chicken and coconut rice
Tropical fruit salsa