6 Ingredients or less meals
So it's Wednesday evening, the kids are screaming for dinner, you had a horrible day at work, your husband is late again and you're 10 seconds away from grabbing that entire bottle of wine and hiding in the coat closet until tomorrow. We've all been there. Instead of hiding away or paying entirely too much for mediocre take out (or delivery), try one of these 6 ingredients or less delicious meal options. They are quick, easy and will have the kids quietly chewing in no time.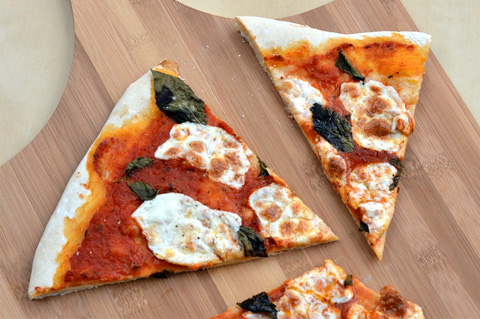 Fresh pizza, tacos and creamy mac n' cheese will satisfy even your pickiest eater -- and can be made with items often stocked in pantries and refrigerators! Show Wednesday night whose boss and give your kids a meal they will love and one that will promptly shut them up!
Margherita pizza
Serves 4
Ingredients:
Homemade pizza dough (recipe here) or store bought
Marinara or pizza sauce
Fresh mozzarella cheese
Olive oil
Basil leaves
Salt and pepper
Directions:
Preheat oven to 425 degrees F. Lightly grease a pizza pan with nonstick cooking spray. Place dough on pizza pan and cover liberally with marinara.
Slice the mozzarella into thin slices and place them all over the sauce, leaving some gaps. Place basil leaves around the cheese. Drizzle pizza with olive oil and bake for 15 minutes, or until crust is golden brown and cheese is melted. Slice up and enjoy!
Creamy mac n' cheese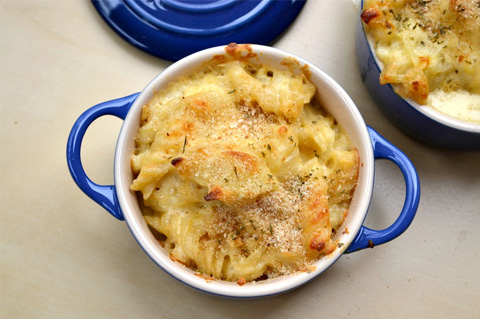 Serves 4
Ingredients:
8 ounces of macaroni or rotini noodles
2 tablespoons flour
2 tablespoons butter
2 cups milk
2 cups part-skim cheddar cheese
1/2 cup breadcrumbs
Directions:
Grease a baking dish with nonstick cooking spray. Bring a pot of water to boil and add pasta and a dash of salt. Cook until just al-dente, about 8 minutes. Rinse and set aside.
In a large, deep skillet, heat butter over medium-high heat. Add flour and whisk until smooth. Gradually add in milk and whisk until mixture becomes a sauce. Remove from heat and stir in cheese and pasta. Pour mixture into the baking dish, sprinkle with salt. Pour breadcrumbs over the top and bake for 20 minutes, or until breadcrumbs are browned and cheese is bubbly. Serve warm and enjoy!
Chicken tacos with avocado salsa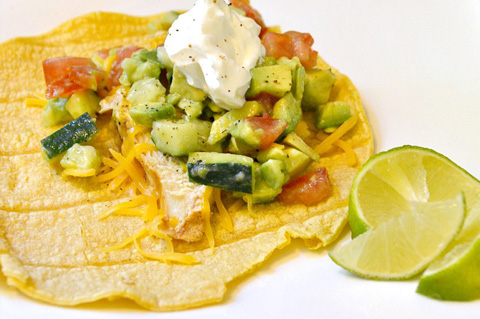 Serves about 4
Ingredients:
2 boneless, skinless chicken breasts
4 corn tortillas
1 medium avocado, seeded and chopped
1 large tomato, chopped
1 cucumber, chopped
1 lime
Directions:
For shredded chicken, place chicken breasts and 1 cup of water in a large crock pot. Heat on low and cook for 3 - 6 hours. Using two forks, shred chicken. (This step can be done the night before.) For grilled chicken, simply sprinkle chicken with salt and pepper and grill on a grill (or grill pan) until fully cooked. Remove from heat and thinly slice.
To prepare the salsa, mix the avocado, tomato and cucumber together. Squeeze lime over the mixture and garnish with salt.
To prepare the tacos, simply place the chicken in the tortilla, spoon salsa over it and enjoy! For extra garnishment and ingredients, add cheese or sour cream.
More budget friendly dishes
Fast and frugal meals
Money-saving meals
5 Dinners for less than $10