Spring desserts: Triple berry crisp recipe
In the spring and summertime fresh berries are abundant, sweet and affordable. Use fresh berries to create these wonderful dessert recipes.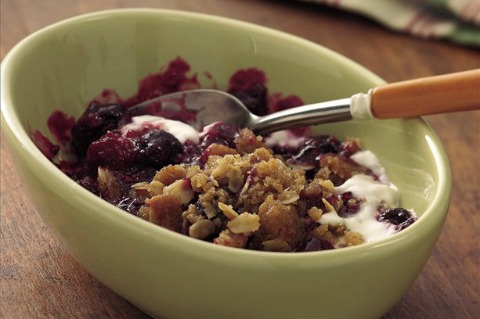 Triple-berry crisp
Makes 6 servings
Warm mixed berries topped with crispy oats, makes a delicious fruit dessert!
Ingredients:
1/2 cup granulated sugar
1/4 cup cornstarch
1 pint fresh blueberries
1 pint fresh raspberries
1 cup fresh blackberries
1 tablespoon lemon juice
1-1/4 cups packed brown sugar
1 cup all-purpose flour
3/4 cup quick-cooking or old-fashioned oats
1 teaspoon ground cinnamon
1/4 teaspoon salt
3/4 cup butter or margarine
Whipping (heavy) cream, if desired
Directions:
Heat oven to 375 degrees F. Grease bottom and sides of an 8 x 8-inch square baking dish, with shortening. Mix granulated sugar and cornstarch in a 3-quart saucepan. Add berries and lemon juice. Toss until evenly coated. Heat to boiling over medium-low heat. Boil 3 to 4 minutes, stirring frequently, until thickened. Spoon berry mixture into baking dish.
Mix brown sugar, flour, oats, cinnamon and salt in a large bowl. Cut in butter, using pastry blender or crisscrossing two knives, until mixture looks like coarse crumbs. Sprinkle over berries.
Bake about 30 minutes or until topping is golden brown. Cool at least 20 minutes. Serve warm with whipping cream.
Recipe and image courtesy of Betty Crocker
Tuscan apricot berry crostata
Serves 10
This gorgeous berry tart with a latticework crust makes any occasion special. Make it when fresh berries are bursting with flavor and easy to find.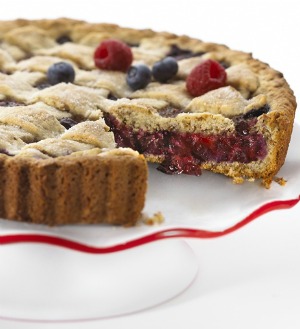 Ingredients:
1-1/3 cups all-purpose flour
1 cup Kellogg's All-Bran Original cereal (crushed to 2/3 cup)
1/2 cup sugar, divided
2 teaspoons baking powder
3/4 cup butter or margarine
1 egg, slightly beaten
1/4 cup milk
1 teaspoon vanilla
2 cups fresh blueberries or red raspberries
1 cup apricot all-fruit spread or apricot preserves
Directions:
In a medium bowl stir together flour, Kellogg's All-Bran Original cereal, 1/3 cup of the sugar and baking powder. Cut in butter until mixture resembles coarse crumbs.
In a small bowl combine egg, milk and vanilla. Add to flour mixture, stirring just until moistened.
On lightly floured surface knead for 10 to 12 strokes or until dough just clings together. Remove one-third of the dough. Cover and refrigerate. Press remaining dough onto bottom and up sides of a 10-inch tart pan with removable bottom. Arrange berries in bottom. Gently dollop apricot spread over berries. Filling will look skimpy.
On a lightly floured surface, roll chilled dough into a 10-inch circle. Cut into 1-inch-wide strips. Arrange strips over fruit in a lattice pattern. Sprinkle with remaining sugar. Bake at 375 degrees F for 40 to 45 minutes (or until golden brown). Let stand for 10 minutes. Remove from the pan and serve warm.
Image and recipe courtesy of Kellogg's
Mixed berry shortcakes
Makes 6 servings
Fresh seasonal berries, tender shortcake and vanilla ice cream come together beautifully in this sweet dessert your whole family will love.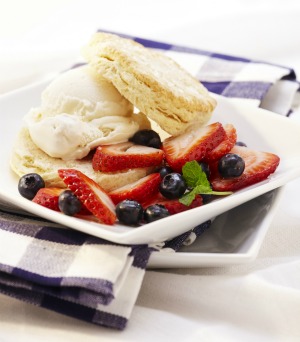 Ingredients:
2 pounds fresh strawberries, sliced (about 6 cups total)
2 containers (6 ounces each) fresh blueberries (about 2-1/2 cups total)
7 tablespoons granulated sugar, divided
nonstick cooking spray
2 cups all-purpose flour
1 tablespoon baking powder
1/2 teaspoon salt
1/4 cup (1/2 stick) cold unsalted butter, cut into pieces
3/4 cup low-fat milk
Sparkling sugar (optional)
3 cups light vanilla ice cream
Directions:
Combine strawberries, blueberries and 3 tablespoons of granulated sugar in a large bowl, stirring gently. Let stand, stirring occasionally, for 30 minutes.
Preheat oven to 450 degrees F. Spray a baking sheet with nonstick cooking spray.
Whisk flour, remaining 4 tablespoons granulated sugar, baking powder and salt in a large bowl. Cut in butter with pastry blender or two knives until mixture resembles coarse crumbs. Add milk and stir just until a moist dough forms. Turn the dough onto a floured work surface. With floured hands, knead 6 to 8 times until the dough is smooth. With a rolling pin, roll dough into a 9 x 6-inch rectangle or until about 1/2-inch thick. Cut into 6 (2-1/2-inch) circles. Transfer to the prepared baking sheet. Sprinkle with sparkling sugar.
Bake for 10 to 12 minutes or just until golden. Transfer biscuits to individual plates and split them open. Top each with about 1 cup of berry mixture and 1/2 cup of vanilla ice cream.
Image and recipe courtesy of Nestle