Leftover Easter candy brownies recipe
Easter is over and you have so much candy leftover that even your kids can't eat it all. Don't toss it out. Head to the kitchen and create these decadent yet simple recipes using your leftover candy. Your whole family will love these brownies, cookies and other treats.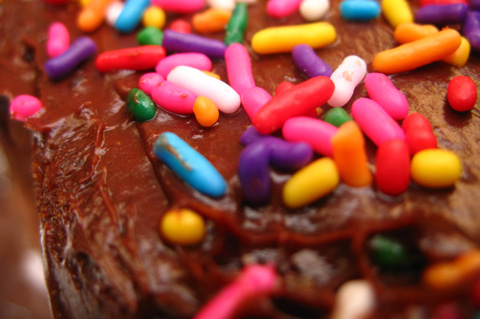 Leftover Easter candy brownies
Makes 20
Boxed brownies go from ho-hum to fabulous by adding in your leftover chocolate Easter candy.
Ingredients:
1 box chocolate brownie mix
2 eggs
1/4 water
1/2 vegetable oil
10 ounces chopped candy
Directions:
Preheat oven to 350 degrees F. Spray 8 x 8-inch glass baking dish with cooking spray.
Make brownie mix according to the package directions.
Before spreading the batter into the pan, fold in pieces of candy.
Pour into the dish and spread evenly. Bake 42-45 minutes or until a toothpick inserted into the center comes out clean.
Leftover Easter candy cookies
Any recipe that generally uses chocolate chips can be replaced with leftover Easter candy. For cookies, don't use the candies with caramel, nougat or other delicious things inside -- they'll likely spread too much for cookies. Instead use chocolate eggs, mini candy bars and chocolate bunnies. Chop the chocolate and just substitute it into your favorite chocolate chip cookie recipe. Keep in mind that if you have a lot of candy, you can bake extra cookies and deliver them to your neighbors, or freeze for later.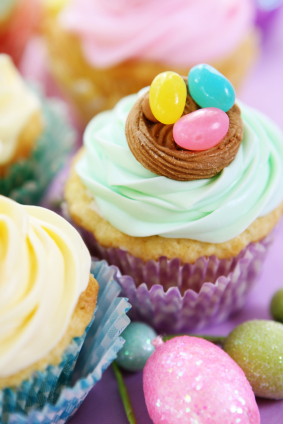 Leftover Easter candy cupcakes
Marye Audet, writer, baker and super mom, offers an amazing recipe for Rolo Filled Chocolate Cupcakes with Praline Frosting on Restless Chipotle. This recipe would work with all those caramel-filled eggs you have leftover.
If you are wondering what to do with Cadbury Eggs, SheKnows has you covered with these amazing chocolate lava cakes (with Cadbury Eggs tucked inside). They are rich, gooey, chocolatey after-Easter heaven!
And of course, you can top your favorite cupcake recipes with leftover jelly beans, malted milk eggs and other Easter candy.
Leftover Easter candy fondue
Leftover chocolate makes the perfect fondue. Sort your leftover candy by type, or create unique flavor combinations. Melt chocolate in your fondue pot or a double boiler, and use to dip chunks of fruit, pound cake, pretzels, chips or anything else that goes with chocolate.
More Easter candy recipes
Leftover Easter candy blizzard
3 Easter candy martini recipes
Leftover Easter candy recipes