5 Quick and easy spring snacks for kids on the go
With trips to the park, play at the beach, and family hikes up local hills, spring is all about outdoor family fun. You can certainly grab convenience fare in the junk food aisle at the market or you can get in the kitchen with your kids to make these five quick-to-fix spring snacks.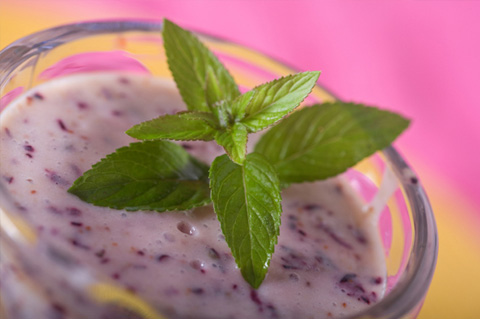 Fruit and yogurt smoothies
Serves 4
Who says smoothies are only for breakfast? With the growing availability of refillable beverage bottles, your kids can take a smoothie wherever they go. We love the leak-proof Nalgene Grip 'n Gulp bottles for preschoolers and the Nalgene Mini Grip for older kids.
Ingredients:
Directions:
Let your kids add kefir and fruit to a blender or food processor.
Secure the lid and purée until smooth (consider the sip opening of their bottle and make sure that no chunks of fruit will get stuck).
If you need to thin smoothie, add your choice of milk or juice.
Transfer smoothie to drinking containers and refrigerate until ready to go.
Cinnamon popcorn
Yields 6 to 8 cups
Popcorn is a universally loved snack and can be made in minutes. Microwave popcorn is certainly the easiest but air-popping it doesn't take much longer and is far healthier than the bagged variety that usually contains a load of sodium and preservatives. If you're going to use microwave popcorn, go for the healthiest brands, such as Newman's Own 94% Fat-Free Microwave Popcorn.
Ingredients:
6 to 8 cups popped popcorn
Cooking spray
1 teaspoon ground cinnamon
2 tablespoons superfine sugar (grind granulated sugar in a spice grinder)
Pinch of salt
Directions:
Place popcorn in a large bowl and let your kids spray it lightly with cooking spray, tossing and spraying to coat.
Mix cinnamon, sugar, salt and let your kids sprinkle evenly over popcorn, tossing to coat.
Allow popcorn to cool completely then divide in 1-cup snack bags that can easily be stashed in a backpack.
Honey-glazed almonds and dried fruit
Yields 4 cups
If your kids aren't hip on plain nuts, sweeten the deal by teaching them how to make honey-glazed nuts. We use almonds in this recipe, but you can use any nuts you have on hand. Toss almonds with dried cherries, dried blueberries, and/or diced dried apricots to make a basic trail mix.
Ingredients:
1 tablespoon butter
1/2 cup honey
2 cups raw almonds
1 teaspoon ground coriander
Generous pinch of salt
2 cups dried fruit
Directions:
Melt butter in a large skillet over medium heat. Stir in honey and cook for 1 to 2 minutes or until mixture starts to bubble. (If your children are old enough, let them stir the mixture.)
Add almonds, coriander and salt to the honey mixture. Stir to coat. Cook for 5 minutes or until nuts are lightly browned.
Spray a large rimmed baking sheet with cooking spray and spread nuts out in a single layer. Allow nuts to cool completely.
Let your kids transfer almonds to a large bowl and toss with dried fruit.
Teach your kids how to package nuts in 1/4- to 1/2-cup portions for a healthy grab and go snack.
Bagel thin almond butter and fruit sandwiches
Serves 4
Making sandwiches is a super easy kitchen skill that kids can start learning in the their toddler years. Bagel thins are more intriguing than sliced bread and are the perfect portion for snacks. Before your kids head to the park, have them make almond butter with smashed fruit sandwiches.
Ingredients:
4 whole-wheat thin bagels, split, toasted (Try Thomas' Whole Wheat Bagel Thins)
4 to 6 tablespoons almond butter
Bananas, strawberries, grapes, apricots or other soft fruit
Directions:
Have your kids spread almond butter on 4 bagel thin halves then smash fruit on the other 4 halves with the back of a fork.
Let your kids assemble the sandwiches then place in lunch bags. If making ahead, keep sandwiches in the refrigerator until ready to go.
Cook's note: If sandwiches will be at room temperature for more than 2 hours, pack them with a lunchbox ice pack.
Hummus and crackers
Serves 4
Teach your kids how to make their own hummus and they will love the freedom to experiment with different ingredients. Partner hummus with crackers. Our latest fave is the gluten-free and cheesy Kitchen Table Bakers Crackers, available in 8 yummy flavors.
Ingredients:
2 cans garbanzo beans, rinsed, drained
Juice of 1 lemon
1/4 cup parsley leaves
1 clove garlic, crushed
Olive oil
Crackers of your choice
Directions:
Have your kids combine beans, lemon juice, parsley and garlic in a blender or food processor.
Secure the lid and blend. With the machine running, let your kids slowly drizzle olive oil into the hummus until a dip consistency is reached.
Transfer hummus to individual serving lunch containers. Portion 1 ounce or less of crackers into snack bags or containers. Keep hummus refrigerated until ready to pack.
More tasty snack ideas for kids
Healthy summer snack recipes for kids
Mom-friendly snack recipes for mid-morning munchies
Vegan-friendly snack recipes for the whole family