5 Things to do with fresh artichokes
From simply steaming artichokes and serving them with melted butter to stuffing these uniquely-shaped veggies with a flavorful breadcrumb filling... Here are five amazing ways to eat fresh artichokes.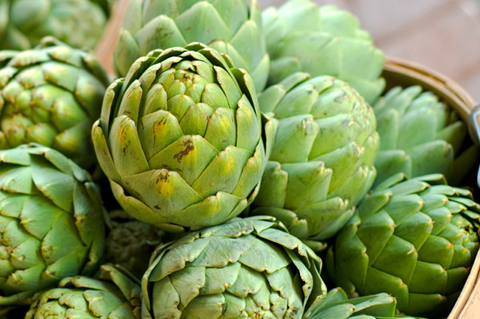 Simply steamed artichokes
Serves 4
The simplest way to cook fresh artichokes is to steam on the stove-top until tender. Serve with melted butter or warm olive oil, dipping each leaf and using your front teeth to scrape the flesh into your mouth, until you get to the artichoke heart. Use a fork to spear it into your mouth.
Ingredients:
4 artichokes, stems cut off at the base, top 1-inch cut off, thorny leaves trimmed
Directions:
In a large wide pan over high heat, bring about 1 inch of water and a generous pinch of salt to a boil.
Set the artichokes in the salted boiling water, cover the pan and reduce heat to simmer.
Cook for 25 minutes or until leaves easily pull off. Remove from the pan, drain, pat dry and serve immediately.
Cheesy baked artichokes
Serves 4
Tender artichokes draped with melted cheese make for an easy dish that can be served at your most elegant spring occasions.
Ingredients:
4 artichokes, stems cut off at the base, top 1-inch cut off, thorny leaves trimmed
8 ounces crumbled feta cheese
2 tablespoons cream
1 tablespoon minced fresh parsley
1 clove garlic, minced
Salt and freshly ground black pepper
1/4 cup whole wheat bread crumbs
Olive oil
Directions:
Bring a large pot of salted water to a boil over high heat.
Add the artichokes and cook them until just tender, about 30 minutes. Drain the artichokes and set aside.
Preheat oven to 400 degrees F.
Meanwhile, in a small bowl, stir together the feta, cream, thyme, parsley and garlic. Season with salt and pepper.
Use a spoon to remove the center choke of the artichokes. Stuff the feta mixture into the center of each of the artichokes.
Place the artichokes into a baking dish. Sprinkle with bread crumbs and drizzle olive oil over the top of each artichoke.
Bake for 20 to 25 minutes or until the cheese is melted and bread crumbs are crisped. Serve immediately.
Grilled artichokes
Serves 4
Yes, you can grill fresh artichokes and they are amazing!
Ingredients:
4 fresh artichokes
Salt
1 lemon, halved
3 tablespoons olive oil
2 garlic cloves, very finely minced
Freshly ground black pepper
Directions:
Using a sharp knife, trim the end of each artichoke stem and slice the top off each artichoke.
Pull off the small outer leaves and use kitchen shears to snip off the thorny tips off the leaves.
In a large pot, bring 2 inches of water to a boil. Add a generous pinch of salt and a squeeze of juice of half of the lemon into the water.
Add the artichokes, cover the pot and steam for 20 minutes (or until the artichoke bottoms pierce easily). Drain and set aside to cool.
Preheat grill to medium heat and oil the grill grate.
Using a sharp knife, cut each artichoke in half lengthwise and scrape out the fuzzy center.
In a small bowl, combine garlic, oil, remaining lemon juice, a generous pinch of salt and a few grinds of black pepper. Brush artichokes with garlic mixture.
Grill artichokes 4 to 6 minutes per side, until lightly charred. Serve with your favorite dip or dressing.
Braised baby artichokes
Serves 4
Ingredients:
16 baby artichokes, trimmed
Grated zest and juice of 2 lemons
1 cup fresh parsley, stems and leaves
3 tablespoon fresh tarragon leaves
3 fresh thyme sprigs
6 garlic cloves, crushed
2 bay leaves
1 teaspoon whole black peppercorns
3 tablespoons olive oil
Balsamic vinaigrette for drizzling (try Bolthouse Farms Classic Olive Oil Balsamic Vinaigrette)
Directions:
Place artichokes in a large sauce pan and cover with water.
In a small bowl, combine lemon zest, juice, parsley, tarragon, thyme, garlic, bay leaves and peppercorns. Pour into saucepan and shake pan a few times to distribute.
Place pan over high heat and bring to a simmer. Reduce to low and simmer gently for 25 minutes or until artichokes are tender.
Use tongs to remove artichokes and allow them to drain. Place them on a stack of paper towels to cool.
Cut the artichokes in half lengthwise.
Heat 1-1/2 tablespoons of oil in a large skillet over medium-high heat. Add half of the artichokes, cut side down. Cook for 3 to 4 minutes or until they are lightly browned.
Transfer sautéed artichokes to a serving plate and keep warm. Heat remaining oil in skillet and cook remaining artichokes. Serve immediately drizzled with balsamic vinaigrette.
Crab-stuffed artichokes
Serves 4
This is a classic fresh artichoke recipe that sounds fancy but is really easy to make.
Ingredients:
8 ounces lump crabmeat, any shells or cartilage removed
1/2 cup finely chopped red onion
1/2 cup finely chopped celery
2 tablespoons capers, rinsed and minced
2 teaspoons seafood seasoning blend (give Mrs. Dash Caribbean Citrus Seasoning Blend a shake) 
Grated zest and juice of 1 lemon, divided
1/3 cup extra-virgin olive oil (we like Three Olives Extra Virgin Olive Oil), divided
4 large artichokes, tops sliced off, stems removed, thorny leaves trimmed
3 cloves garlic, minced
2 cups vegetable broth
Directions:
Preheat oven to 375 degrees F.
Chop crabmeat and place in a large bowl. Add breadcrumbs, onion, celery, capers, seafood seasoning, lemon zest, 2 tablespoons of lemon juice and 2 tablespoons of olive oil.
Remove the outer layer of the small, tough leaves from the stem-end of each artichoke. Slice the bottom of each artichoke to make a flat bottom. Starting at the outer layers and progressing inward, pull the leaves apart to loosen until you get to the spiky, lighter leaves around the artichoke heart. Pull out the lighter leaves. Scoop out the choke of each artichoke with a melon baller.
Stuff 1/2 cup of the crab mixture into the center of each artichoke. Use a small spoon to stuff an additional 1/2 cup of the crab mixture between the outer leaves, toward the base, using a small spoon.
Heat 2 tablespoons of oil in a Dutch oven over medium-high heat. Add garlic and cook, stirring often, until fragrant, about 30 seconds. Stir in broth and the remaining lemon juice and bring to a simmer.
Carefully stand the artichokes upright in the pan. Drizzle each artichoke with the remaining oil.
Cover the Dutch oven and place it in the oven. Bake for about 50 minutes or until a knife easily pierces down through the center of an artichoke.
Uncover and continue baking until the stuffing is lightly browned. Remove the artichokes from the braising liquid and serve with the braising liquid for dipping or drizzling.
More artichoke recipes
Summer artichoke recipes
Shrimp stuffed artichokes
Artichokes stuffed with garlic and capers