How to make a spring quiche
Whether you're planning family brunch get-togethers or simply want an easy lunch dish that you can serve with a salad for friends, quiche is quick and easy to prepare and is especially impressive when it boasts the spring's bounty of fresh veggies and herbs. Here's how to make a spring quiche along with tasty variations to take you into summer.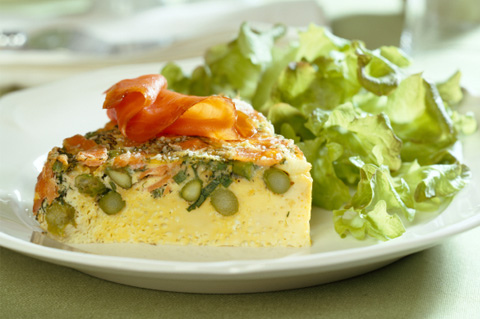 Spring quiche
Serves 6
Ingredients:
2 tablespoons olive oil
1 leek (white and light green parts only), washed well, patted dry, thinly sliced
3/4 pound asparagus, tough ends removed, spears thinly sliced on the diagonal
Salt and freshly ground black pepper
4 eggs
1 cup half-and-half
1/2 cup milk
Freshly grated nutmeg
1 cup shredded Gruyère or Swiss cheese
1/4 cup freshly shaved Parmesan cheese
Directions:
Preheat oven to 350 degrees F.
Roll pie crust out and line it in a standard pie dish, trimming where necessary. Crimp edges and place in the refrigerator for at least 30 minutes.
Meanwhile, heat oil in a large skillet over medium heat.
Add leek and asparagus and season with salt and pepper. Cook, stirring often, until asparagus is crisp-tender. Set aside to cool.
In a large bowl, whisk together eggs, half-and-half, milk, a generous pinch of salt, a few grinds of black pepper, and a pinch of nutmeg. Stir in half of the Gruyère or Swiss cheese.
Remove pie plate from refrigerator and place it on a rimmed baking sheet. Sprinkle with remaining Gruyère or Swiss cheese.
Pour asparagus mixture inside crust and distribute evenly over the bottom. Pour egg mixture on top. Scatter with Parmesan cheese. Shake pie plate gently to distribute liquid ingredients.
Bake for 50 to 60 minutes or until quiche is set. Be sure to place a pie crust protector or strips of aluminum foil over crust if it starts to brown too quickly.
Place quiche on a wire rack to cool for 15 minutes before slicing and serving.
Quiche variations
Tomato and basil quiche: Replace asparagus with diced garden tomatoes (preferably, seeded) and add 1/2 cup thinly sliced fresh basil. Sauté leek and tomatoes until leek is crisp-tender. Stir basil into the egg mixture before pouring into the pie crust.
Zucchini herb quiche: Replace asparagus with thinly sliced zucchini, sautéing with leek until tender. Stir 1/2 cup of your choice of freshly picked herbs into the egg mixture.
Mediterranean quiche: Replace asparagus and leek with 1/2 cup of roasted, diced eggplant, 1/2 cup chopped marinated artichoke hearts, 1/2 cup finely chopped red onion, and 1/2 cup finely chopped sun-dried tomatoes packed in olive oil. Swap out Parmesan for feta cheese.
Broccoli olive quiche: Replace asparagus with bite-sized broccoli florets, sautéing with leek until tender. Add sliced Kalamata olives to the egg mixture.
Cheesy quiche: Use whatever veggies and herbs of your choice and swap out Gruyère or Swiss cheese for any shredded cheeses you have on hand. Experimenting with different cheeses will give you a novel quiche every time you make one.
More incredible edible egg recipes
Tasty twists on Eggs Benedict
Eggs-citing deviled eggs recipes
The many ways to cook eggs