Vegan one-pot stir fry recipe
Need an easy, one-pot dinner recipe for your busy weeknights? One that is also dairy and meat-free for your picky/allergic eaters? Look no further than this delicious, 30 minute or less, one-pot vegan stir fry! Made with bright, organic vegetables, crunchy peanuts and a dash of spicy sauce, this is the perfect, quick and easy, healthy dinner idea. If the spice is too much for your family, make a batch without it and enjoy the metabolism-boosting spice on your own!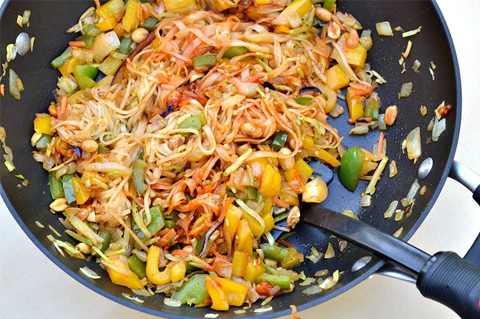 Since this Asian-inspired meal contains tons of veggies, it's a healthy meal you can feel good about serving to your family. This recipe will soon become a staple in your meal planning because it's not only delicious but it's super easy and requires such little clean up! Less time doing dishes means more time you can spend with your loved ones -- or spend drinking wine catching up on TV shows!
Vegan one-pot stir-fry
Serves 4
Ingredients: 
8 ounces rice noodles
1 medium onion, chopped
2 garlic cloves, chopped
2 tablespoons extra virgin olive oil
1 organic green bell pepper, rinsed and chopped
1 organic yellow pepper, rinsed and chopped
1 cup broccoli slaw
1/4 cup unsalted peanuts
1 tablespoon vegan protein powder (optional)
3 tablespoons low-sodium soy sauce
1 tablespoon hot red pepper paste (optional)
Liberal dashes of salt and pepper
Directions: 
Place dry rice noodles in a large mixing bowl. Cover with warm water and let sit for 10 minutes to soften.
Meanwhile, heat olive oil in a large wok on medium-high heat. Add onions and cook until just softened, about 3 minutes. Add garlic and peppers and cook until soft and lightly browned, about 4 more minutes. Add broccoli slaw, peanuts, protein powder and soy sauce. Heat another 2 - 3 minutes. Stir in noodles and hot pepper paste until paste is fully mixed in.
Add liberal dashes of salt and pepper and serve warm!
More one-pot dinner ideas
French onion soup and other time-saving one-pot meals
One-pot chicken dinner recipe
Tonight's Dinner: Stove-top chicken n' stuffing