How to be a potluck casserole queen
In addition to having an impressive collection of scrumptious potluck casserole recipes, you also need to have a stylish and functional selection of potluck-perfect casserole accessories to gracefully feed a crowd. From the best casserole dishware to printed oven mitts and eye-catching casserole totes, here's everything you need to be a potluck queen.
Crate and Barrel bake and store rectangular casserole ($15)

There are plenty of colored casserole dishes but we like the option of clear glass so our casserole colors never clash with the dishware. For example, rich red and orange-hued lasagna looks out of place in a pastel blue casserole dish. Crate and Barrel's 13x9-inch tempered glass casserole dish goes with everything and even comes with a tight-sealing lid so you can bake and take to the local potluck affair. The dish is also microwave and dishwasher safe.
Hen House Linens oven mitt ($16)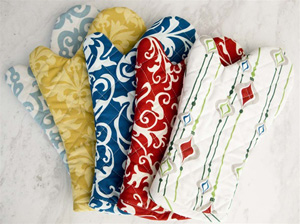 Skip the chintzy oven mitts that don't last long or do a poor job protecting your skin. Slip your hands into Hen House Linens oven mitts, available in 21 eye-catching designs, for a comfy feel-good fit as well as hefty size to lift the biggest casserole dish out of your oven. The mitts are lined with heat-resistant padding "to ensure you will be the only saucy dish in your kitchen too hot to handle." Mitts are machine-washable.
Hen House Linens casserole potholder ($13)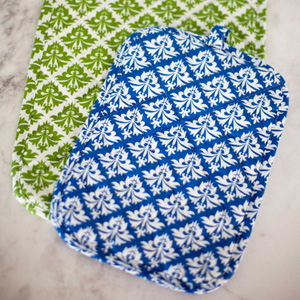 Match your mitts with a Hen House Linens casserole potholder, which doubles as a pretty trivet. Just like the oven mitts, these stylish potholders are lined with heat resistant padding and can be tossed in the wash if the casserole runs over the side of the dish.
Vonny casserole carrier ($48)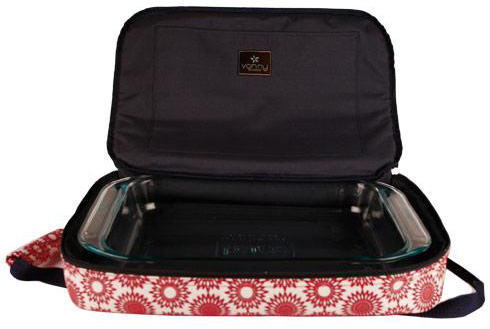 Since potlucks are a quintessential part of spring and summer, make sure you stock up on fashionable and functional casserole carriers. Vonny's potluck casserole totes are made with a laminated printed canvas exterior and a coordinating bright-hued interior. The carriers are made to fit a 13x9-inch dish (or smaller) and has an exterior pocket large enough to hold your serving utensils.
Perpetual Kid cake carrier tin ($25)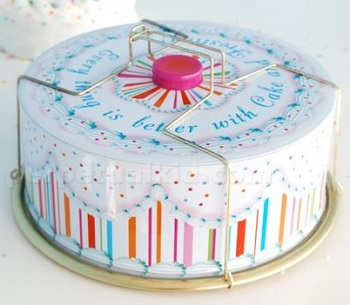 If you're on dessert duty for your potluck, arrive with your home baked treat in a vintage cake carrier tin that will get as much attention as your cake. Sporting a retro-look, the top of the tin boasts "Every thing is better with Cake and Frosting." We agree -- especially when half of the frosting doesn't end up on the floorboard of your car. This cake carrier, which measures 13.5-inches in diameter and 7-inches tall with handle, will ensure your dessert arrives intact and in style.
Zeroll Ussentials utensils (price varies)

Don't show up at a potluck with dish in hand and yet no utensils to serve it. Zeroll has a fun line of ergonomically-designed Ussentials, such as turners and servers to spoons and scoopers, made of nylon and stainless steel and come in a wide array of colors ranging from soft pastels to bold-statement hues. Be warned: Once you start perusing the Ussentials collection, you're going to want every kitchen utensil available.
Casserole recipes for your potluck parties
Sausage pot pie
Creamy chicken lasagna
Comfort food potato casseroles