Passover's sweet Seder treat: Apple and almond-cashew charoset
Most holidays include traditional foods, and Passover has a number of symbolic dishes included in the Seder. One favorite? The charoset -- a mixture of apples, nuts, cinnamon, wine and honey.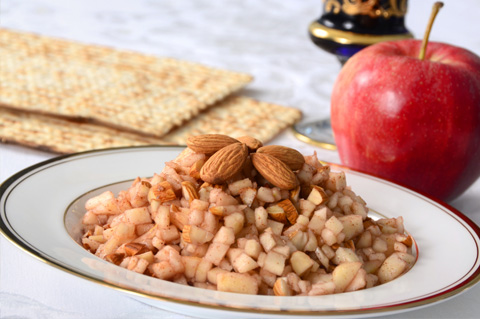 What is the symbolism behind the charoset? It represents the mortar that the Jewish people, who were enslaved in ancient Egypt, used to build houses.
Storytelling is part of the Passover celebrations. Include your kids with helping you put together different dishes. Allow them to cut the apples (if they're old enough and able), or ask them to add ingredients to the bowl or help mix them up. Take the time to share stories about what the meaning is behind the holiday. It's a great time to learn and have fun at the same time!
Apple and almond-cashew charoset
Makes about 1-1/2 cups
Ingredients:
1-1/4 cups unsalted almonds and cashews, toasted and chopped
2 Granny Smith apples, peeled, cored and finely chopped
2 Fuji apple, peeled, cored and finely chopped
1 teaspoon orange zest
3/4 teaspoon cinnamon
3 tablespoons honey or to taste
4 tablespoons sweet red wine
Directions:
Carefully toast the almonds and cashews in a skillet over medium heat. Toss them until they begin to brown, for about 3 minutes. Remove from the heat, cool, then chop them.
In a medium bowl, combine the almond and cashew pieces with the remaining ingredients. Mix so everything combines. Taste and add more cinnamon, honey or wine if you'd like.
Allow to sit, covered, at room temperature until you're ready to serve it. Toss the mixture once again before serving.
The holidays can be such fun. Be sure to include your family in as many activities as possible!
More holiday recipes to try
Healthy Passover recipes
A vegetarian Seder
Kosher Passover dessert recipes