Not the Perfect Cook: Belize chicken and coconut rice recipe
Turning a regular day into a vacation day by making a Not the Perfect Cook tropical meal!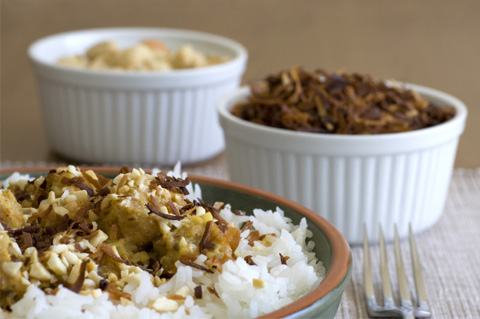 Spring fever gets to me and I become antsy to get away. I do not have unlimited resources to just buy the tickets and book the resort. So when the mood strikes me, I bring the islands to my kitchen by making this dish I tasted in Belize.
The food in Belize is a combination of various types of food. There is a Caribbean influence, as well as Hispanic and Creole. When we were in Belize several years ago for our family cruise, I had some type of a wonderful chicken dish. It had sweet and savory tastes to it. This is what I made to try and duplicate that wonderful afternoon in Belize. If you are unable to get away to the islands, just put on some great music, have a tropical drink and make this Belize chicken and coconut rice dish. Your budget will thank you!
Belize chicken
Serves 4-6
Ingredients:
1 pound boneless, skinless chicken breasts, cut into bites
2 tablespoons allspice
1 tablespoon Creole seasoning
Dash of cayenne pepper (about 1/2 teaspoon)
1 tablespoon olive oil
Directions:
In a large cast iron skillet, heat the oil over medium heat.
In a large bowl using tongs, mix chicken, allspice, Creole seasoning and cayenne.
Being careful not to burn yourself (as the oil might splatter), carefully add the chicken to the oil. It will only take about 6 to 8 minutes to cook the chicken.
Serve with coconut rice and black beans!
Coconut rice
Serves 4-6
Ingredients:
1-1/2 cups long grain rice
1 can coconut milk* (not cream of coconut)
1-1/2 cups water
1 clove garlic, minced (omit if you would prefer sweeter rice, rather than a savory-sweet rice)
2 tablespoons olive oil (butter may be used instead)
Dash of salt (about 1/8 teaspoon)
Toasted coconut (place shredded coconut on a cookie sheet and place in oven at 375 degrees F for about 5 to 7 minutes to toast)
*If you do not have coconut milk, you can add 1 teaspoon of coconut extract to whole milk. You may also toast coconut, add it to the milk, and then remove with a slotted spoon before adding the milk to the rice.
Directions:
In a heavy saucepan, heat the oil (or butter) over medium heat.
Add the garlic and cook for about 1 minute.
Next add the rice and cook for another minute, stirring constantly.
Add coconut milk, salt and water, bring to a boil.
Stir, reduce heat to low, then cover and cook for about 20 minutes (until the rice is tender and all of the liquid has been absorbed).
When plated and ready to serve, sprinkle with toasted coconut.
More tropical recipes to enjoy