Fighting hunger is no game
Though The Hunger Games is quite entertaining, fighting hunger in our communities is no game.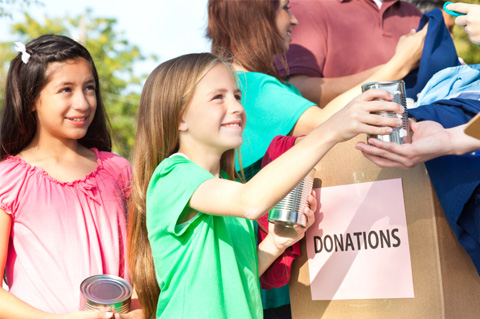 With the release of The Hunger Games in theaters now, as a mom, I can only hope and pray that the much needed awareness and attention is being paid to the war on hunger. When my child says to me, "Mommy, I'm hungry"-- I will stop whatever I am doing to feed her. As moms, we know the ache if our child hurts, and we only want to make their pains and any hurt go away. We need to unite and help other moms and dads, who are struggling with this reality of hunger, and take away their aches and pains, by literally feeding America. You might be surprised to learn the statistics right in your own community.
The facts on hunger
According to Shannon Traeger, spokeswoman for Feeding America, "Nearly 49 million Americans, including more than 16 million children are struggling with hunger." You did read those numbers correctly -- 49 million (or 1 in 6) Americans. Those numbers break my heart because no matter what, some of those families simply are not able to feed their babies when they say, "Mommy, I'm hungry." When you break down that 16 million, Shannon Traeger explains that, "more than 1 in 5 children are at risk of hunger." What if that was your child? Even though organizations like Feeding America are responsible for providing food and groceries to 37 million Americans (1 in 8 Americans), there is still such a tremendous gap of those who still have needs.
Ways to fight hunger
So what can we do to help families struggling with hunger? You can certainly make a donation. Feeding America states that $45 helps feed a family of four for a month. A donation of $25 equals 200 meals that they provide. In addition to monetary help, though, you can get involved. Teaching our children about the compassion needed to change these statistics is imperative. Often times when there is a disaster, people are more than eager to help. You have probably seen on your local news where a tornado devastated a town or perhaps you recall the Nashville flood in May, 2010. Local food banks often lose all of their resources and rely on the kindness of strangers in other communities. But it does not take a natural disaster to cause hunger. Hunger exists just down the street from each of us.
Traeger shared that the following are highly-desired items requested by almost every food bank:
Cereal
Pasta
Rice
Canned fruits and vegetables
Canned meals such as soup, chili, pasta
100 percent juice
Peanut butter
Pasta sauce or spaghetti sauce
Macaroni & cheese
Canned protein: tuna, chicken, turkey
Beans: canned or dry
Knowledge is power, and with this knowledge, are you up for a challenge and ready to test your skills? Maybe if you and your family go to see the movie, The Hunger Games, afterwards you could make a trip to your local grocery store or discount warehouse store to do some food pantry shopping. One thing I like to do is maintain a large donation box. I try to teach families to purchase pantry items when there is a BOGOF (Buy-One-Get-One-Free) sale. Place one non-perishable food item in your pantry and one in your donate box. When the box is full, donate it to a food drive or a local food pantry.
How to get kids involved
Perhaps you would like to give your child a set amount of money and take them to the store. Explain to them that particular money is to purchase items for the food bank. He or she can help shop from the list above and learn not only the importance to shop wisely, but the reward of helping. Encourage your child to get creative and help start a food drive with their friends. One or two moms can call a local food bank and request a convenient delivery date. One family I know even celebrated each child's birthday by asking guests in lieu of presents, to bring non-perishable food items to donate to a local food bank. There are countless ways to help, and fighting hunger is no game. But with compassion and planning, we can raise awareness and lower statistics -- one family at a time. Those are the numbers I want to see go down -- the hunger numbers.
Other ways to help
In America: How to help
Teaching charity to our children
Raising philanthropic kids