Flavored popcorn recipes
We've been big on popcorn lately here at the ChefMom test kitchen, always making it from scratch on the stove top, adding cheeses, herbs and spices to create different flavor profiles. With the Kid's Choice Awards coming up, we've been craving a kicked up version of kettle corn with organic sugar and ground ginger – sweet but sophisticated and definitely award show-worthy.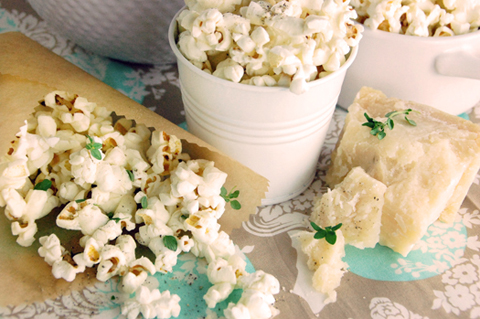 Whatever your favorite flavor profile, the secret to getting the flavorings to stick -- whether fresh herbs, caramel, salt and pepper or cheese -- is to add them when the popcorn is still piping hot.
Award show popcorn
Makes 1 gigantic bowl (about 18 cups)
Ingredients:
3/4 cup organic popcorn
1/2 cup sunflower seed or canola oil
1 teaspoon kosher salt
Directions:
In a large saucepan add oil and popcorn -- shake pan to evenly coat kernels with oil. Sprinkle salt evenly over popcorn. Cover and heat over medium-high heat. Cook 2 minutes, swirling pan every 15 seconds.
When kernels begin to pop, continuously swirl pan over heat to prevent burning. Cook 4 minutes. Remove from heat.
Transfer popcorn to a large bowl, or several small bowls. Immediately add toppings while the oil on the popcorn is still hot (see below).
Topping ideas:
To ensure toppings stick, they should be added and mixed into the popcorn as soon as it comes out of the pan, while the oil on the popcorn is still hot and glistening. Sprinkle mixtures over the top, then mix with a large spoon:
1/2 cup grated Parmesan, plus 1/2 teaspoon cracked black pepper (or)
1/2 cup grated Romano, plus 1 tablespoon chopped fresh oregano (or)
2 tablespoons fresh thyme, plus 1 tablespoon lemon zest (or)
1/2 teaspoon smoked paprika, plus 1/4 teaspoon cumin (or)
1/4 teaspoon ground ginger, plus drizzle warm sesame oil (or)
1/4 teaspoon each ground cumin, plus ground cinnamon, plus ground turmeric (or)
2 tablespoons organic sugar, plus 1/2 teaspoon cracked black pepper (or)
2 tablespoons organic sugar
What if the popcorn pushes the lid off the pan?
Keep the popcorn bowl right next to the stove. If you see the popcorn pushing the lid off, tip the lid open just enough to let some of the popped corn fall into the bowl, then return the pan to the stove to continue cooking. The corn will continue to pop, even off the heat, so be careful not to lift the lid too high.
I forgot to swirl and it burned!
It's an awful smell, isn't it! Swirling the pan while it's over the heat is key to preventing the kernels from burning. If it has burned, there's really no way to save the popcorn. Throw it away, clean the pan, open a window and start again. Do not use the same pan unless you've cleaned it first -- the smell and taste will transfer to the new batch of popcorn.
Leftovers?
If you have leftover popcorn, save it in an airtight glass jar or simply leave it in the same bowl, cover with plastic wrap and store in the pantry. Avoid storing in plastic containers -- popcorn tends to easily pick up odors and flavors that could be hanging out in the plastic.
More popcorn recipes
Popcorn snowball recipe
How to make perfect microwave popcorn
Sweet, savory and spicy popcorn recipes