Non-candy Easter treats for kids
Replace the candy without replacing the fun! These candy-free Easter treats will make the kids smile, and you can relax knowing that you are keeping the extra sugar out of their Easter baskets!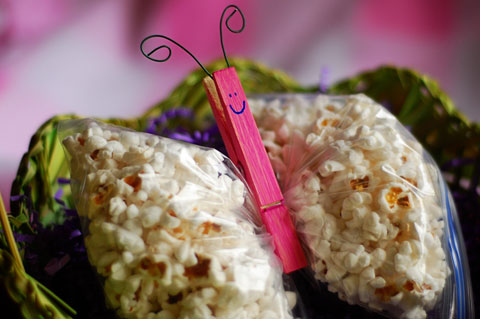 The Easter holiday is known for lots and lots of candy. You can't always control how much candy the kids get at school, at church, and from well meaning relatives, but you can keep the sweet stuff out of their Easter baskets. Try these ideas for candy-free Easter treats that the kids will love.
Make a popcorn butterfly
Pop some of your favorite popcorn and put it in a Ziploc baggie. Clip it in the middle with a brightly colored clothes pin (or paint a plain one yourself) and draw on a face. Use pipe cleaners or craft wire to make the antennae.
Make your own yogurt covered pretzels
Combine 2 cups plain vanilla yogurt with 5 cups confectioners' sugar in a large bowl. Dip the pretzels in the yogurt mixture and place them on parchment paper to harden. Serve after the yogurt coating is fully hardened.
Celebrate Easter with less candy. >>
Give bunny-shaped snacks
Skip the chocolate bunny and find some healthy cookies, crackers or fruit snacks in the shape of bunnies instead. The ones made by Annie's Homegrown are widely available.
Make your own chocolate covered raisins
Melt one bag of semi-sweet chocolate chips in a large bowl in the microwave. Add in 2 cups of raisins and stir until the raisins are completely coated. Lay the coated raisins out in a single layer on parchment paper and serve after the chocolate has hardened.
Make a Goldfish carrot
Purchase clear, disposable cake decorating bags. Fill them approximately 3/4 of the way with Goldfish or any other orange snack cracker. Tie off the top of the bag with green ribbon or rick rack and you have created a carrot-shaped treat!
Get the kids involved with these fun Easter treats. >>
More Easter goodies for kids
Printable Easter coloring pages
Candy-free Easter basket alternatives
5 Unique Easter basket ideas