No-bake granola bars recipe
Make your morning rush just a little bit smoother with these no-bake granola bars. Make them the night before and wake up to breakfast. The best part is, no baking!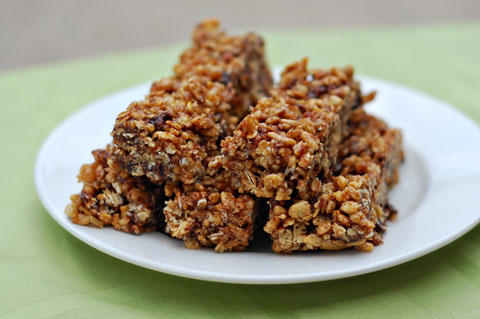 Is it a cookie or a granola bar? Everybody wins when the kids can't tell the difference. It's even better when the ingredients are healthy for them too! Instead of purchasing the store bought stuff, try this easy recipe that's fast and affordable, and the whole family will head out the door in the morning with smiles on their faces.
No-bake granola bar recipe
Makes 16 granola bars
Ingredients: 
1 stick butter
1/4 cup honey
1/4 cup maple syrup
1/2 cup brown sugar
3-1/2 cups granola
2-1/2 cups rice cereal
2/3 cup chocolate chips
1/2 teaspoon cinnamon
1/4 teaspoon salt
Directions: 
Heat a large pot over medium heat. Heat the butter in the pot until it is completely melted. Add in honey, maple syrup and brown sugar and stir until the sugar is completely dissolved.
Add the granola, rice cereal, chocolate chips, cinnamon and salt to the pot. Stir the ingredients until everything is well combined.
Line a 9x13-inch baking dish with parchment paper. Pour the granola mixture into the dish and press it with a spoon to level it out and condense it.
Place the dish in the refrigerator for 1 hour to harden. Remove from the refrigerator and cut into 16 bars using a pizza cutter.
More healthy snack recipes
Healthy snacks for spring
Trail mix: Top 10 healthy snacks for busy moms
Healthy snack recipes for kids