Strawberry bunny cake recipe
Want a festive dessert that your kids will beg to help with? Try this adorable bunny cake! Shaped like the Easter bunny, this cake is not only fun to eat, it's fun to decorate! Using edible decorations, like gel pens, sprinkles and candies, this cute cake can turn any average brunch into something incredible!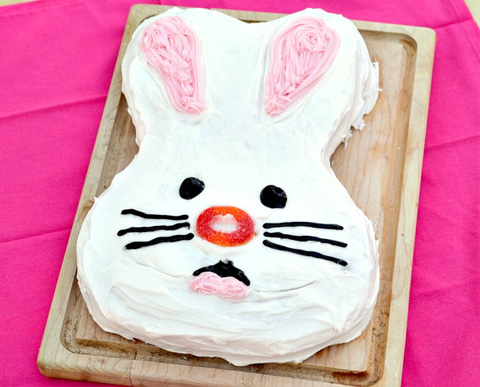 This cake is so cute, no one will believe you made it from scratch! Plus, what better way to spend more time with your kids than playing with icing and sprinkles?
Adorable strawberry bunny cake recipe
Cake recipe adapted from All Recipes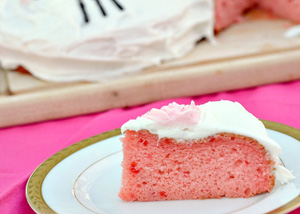 Yields 1 cake or 2 (8-inch) round cakes
Ingredients: 
For the cake: 
1 cup white sugar
1 cup brown sugar
1 (3 ounce) package strawberry flavored gelatin
1/2 cup soft butter
1/2 cup unsweetened applesauce
4 eggs (room temperature)
2-3/4 cups sifted cake flour
2-1/2 teaspoons baking powder
1 cup skim milk
1 tablespoon vanilla or almond extract
1/2 cup strawberry purée (blend frozen strawberries with water)
For the frosting: 
2 sticks butter, soft
3 - 4 cups powdered sugar
1 teaspoon vanilla extract
2 - 3 tablespoons milk
Directions: 
Preheat oven to 350 degrees F. Grease a Wilton bunny pan with nonstick cooking spray and set aside.
In a large bowl, cream sugars, butter and applesauce together until light and fluffy. Add in strawberry gelatin and mix well. Beat in eggs, one a time, mixing well after each addition. Add in the flour and baking powder alternating with the milk. Mix in strawberry purée and vanilla.
Pour mixture into the bunny pan and bake for 22- 25 minutes, or until a toothpick inserted in the middle comes out clean. Let cool on a wire cooling rack.
Once cake is completely cooled, prepare frosting by beating together the butter, sugar and vanilla. Add in milk and stir well. Using a frosting knife, frost the top of the cake and level so it's smooth. Then, decorate to your hearts content with gels, frostings or add ons!
More kid-friendly dessert recipes
Simple summer desserts from Sandra Lee
Getting your family to help in the kitchen
Homemade blackberry Jell-O recipe