Homemade Easter basket treats
Give your kids something special this year by making homemade treats for their Easter basket, rather than just filling it with hard boiled eggs and store-bought chocolate rabbits.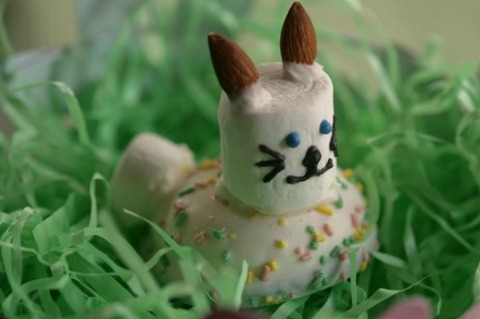 Easter puff bunnies
Makes 8
Kids of all ages will love to see these adorable little bunnies in their Easter basket.
Image and adapted recipe courtesy of Little Debbie.
Ingredients:
16 whole natural almonds
10 jumbo marshmallows
1 cup powdered sugar
3 tablespoons whipping cream
1 (9 ounce) package Little Debbie Marshmallow Easter Puffs (available at grocery stores)
Blue gel icing
Black gel icing
Directions:
Use a sharp knife to square off round ends of the almonds -- set aside.
Cut two of the marshmallows in half and then in half again to create eight semicircle-shaped pieces.
Whisk together powdered sugar and whipping cream in a medium bowl until smooth.
Lay the Easter Puff with its flat end facing down. The Easter Puff will be the bunny's middle section. Decide what rounded edge on that middle section will be the head of the bunny, which is where its whole marshmallow will be attached. Use sugar mixture to stick one whole marshmallow on that top edge of each Easter Puff, pressing gently into place. Then stick one marshmallow quarter to the other side of each Easter Puff to form the bunny's tail. Repeat to create eight bunnies.
Use sugar mixture to stick two almonds on top of each bunny head to form two ears for each bunny. Allow to stand for at least 30 minutes or until set.
Place two small blue dots of gel icing on the front of each marshmallow bunny head to form the eyes on each. Use the black gel icing to draw a small triangular shaped nose, whiskers and a mouth on each bunny. Allow bunnies to stand until frosting is set.
Homemade marshmallows
If your kids think store-bought marshmallows are good, they'll love the light, fluffy decadence of homemade ones.
Ingredients:
2 cups cold water (separated)
5 tablespoons unflavored gelatin
Powdered sugar
3 cups granulated sugar
1/2 teaspoon salt
2 cups light corn syrup
5 tablespoons vanilla extract
Directions:
Put one cup of cold water in a large mixing bowl. Add gelatin to water and stir to combine. Allow to set or 30 minutes until it has become more solid.
Dust the bottom and sides of two 13 x 9-inch glass baking pans with powdered sugar.
Add the granulated sugar and salt to the water, stirring. Add the corn syrup to the water and whisk together over heat until well combined and the sugar is completely melted.
Boil on high until the sugar reaches the firm ball stage (245-250 degrees F on your candy thermometer).
With your mixer on low speed, carefully add the hot sugar mixture into your gelatin.
Turn the mixer up slowly to medium-high and whip the mixture for 15 to 20 minutes until it turns white and fluffy. Add the vanilla extract and continue beating for an additional 5 minutes. At this point, if you'd like to color your marshmallows, you can add a few drops of food coloring.
Pour the marshmallow mixture into your two prepared pans. Dust the top of the marshmallow with more powdered sugar. Allow to set uncovered overnight.
In the morning, use a sharp thin knife and run it along the edge of the pan to loosen the marshmallow. Dip the knife in hot water if it sticks. When the marshmallow is loose, you'll be able to lift it out in a sheet and set it on your cutting board.
Cut the marshmallows in cubes and roll in powdered sugar. If desired, you can also dip the marshmallows in melted chocolate and set on wax paper. Refrigerate to set the chocolate.
Easter basket fudge
Serves 24
Everyone loves fudge and it's the perfect Easter treat. With chocolate chips and evaporated milk, making homemade fudge is a breeze.
Adapted recipe from Toll House.
Ingredients:
1-1/2 cups granulated sugar
2/3 cup evaporated milk
2 tablespoons butter
1/4 teaspoon salt
2 cups miniature marshmallows
9 ounces semi-sweet chocolate chips
1 teaspoon vanilla extract
Chopped walnuts (optional)
Spray decorating icing
Jelly beans
Directions:
Line an 8-inch baking pan with foil.
Add sugar, evaporated milk, butter and salt to a heavy-duty saucepan. Bring to full rolling boil over medium heat, stirring constantly for 5 minutes. Remove from heat.
Stir in marshmallows, chocolate chips, vanilla and nuts (if desired). Continue stirring until marshmallows and chocolate are completely melted.
Pour mixture into prepared pan and refrigerate overnight or until completely firm.
Remove fudge with foil and cut into squares. Add a spritz of spray icing and a few jelly beans or candy sprinkles in Easter colors to decorate each piece of fudge.
More Easter recipes
Elegant Easter desserts
Leftover Easter candy recipes
Easter food and wine pairings