Easter bunny treats recipe and other Easter desserts for kids
Celebrate Easter with your kids with one of these sweet holiday treats. These Easter recipes are perfect for your child's school party or for an Easter gathering at home.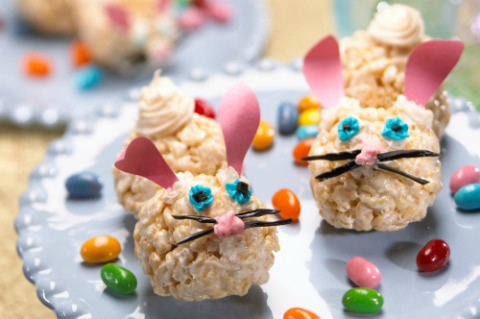 Rice Krispies Treats bunnies
Makes 8
Kellogg's Rice Krispies Treats are a favorite in most households all year long. For Easter, get creative with these sweet treats by using them to create adorable bunnies.
Image and recipe courtesy of Kellogg's
Ingredients:
3 tablespoons butter or margarine
1 (10 ounce) package regular marshmallows (or 4 cups miniature marshmallows)
6 cups Rice Krispies cereal
Canned frosting or decorating gel
Pink construction paper cut into bunny ears
Assorted candies
Directions:
Melt butter in a large saucepan over low heat. Add marshmallows and stir until completely melted. Remove from heat and add in cereal, stirring until well coated.
Press mixture into 1/3-cup measuring cup that has been coated with cooking spray, then roll into a ball with your hands. Repeat until all the mixture has been divided into balls. You should have 16 balls total.
Use frosting to attach two balls together to form the bunny head and body. Repeat to create eight bunnies.
Cut bunny ears from pink construction paper and attach two paper ears to each bunny head. Decorate each bunny with frosting and candies to form the eyes, nose, mouth, whiskers and tail.
As an alternative, you can use a microwave to heat the butter and marshmallow on high for 3 minutes, stirring after the first 2 minutes. Then follow the rest of the steps to make your Rice Krispies Treats bunnies.
Bunny cupcakes
Makes 24
By using a boxed cake mix and canned icing, you can make these bunny cupcakes in no time. Whether for your child's class or for your family, these cupcakes are a sweet Easter treat that everyone will love.
Ingredients:
1 box of white cake mix
Water, oil and eggs as called for on box
Pink food coloring
2 containers of whipped white frosting
5 large marshmallows
Pink sugar
Gel icing
Candy decorations and sprinkles
Directions:
Preheat oven to 350 degrees F. Mix and bake 24 cupcakes as directed by the box. Cool cupcakes in the tins for 10 minutes and then remove onto a cooling rack.
Add 3-4 drops of pink food coloring into one container of frosting (or just a couple drops of red, if you don't have pink) and stir. When cupcakes are completely cooled, frost with pink frosting.
Spoon a heaping teaspoon of white frosting from the second container onto the center of each cupcake to create the bunnies' faces.
Use kitchen scissors to cut each marshmallow crosswise into five pieces. Eat one piece so that you have 24 pieces left. Take each of those pieces and cut through the center within 1/4-inch of the edge. Pull the pieces apart to separate into bunny ears without tearing all the way through.
Place one side of each of the sets of bunny ears into pink sugar, flattening slightly. Arrange the ears onto the cupcakes. Use gel icing, candy sprinkles and other decorations to create the eyes, nose and whiskers on each cupcake.
Easter basket cake
Serves 12
A standard two layer cake cake be turned into a festive Easter basket with ease.
Ingredients:
1 box of white cake mix
Water, oil and eggs as called for on box
Whipped white or chocolate frosting
Shredded coconut
Green food coloring
Candy eggs and other assorted Easter candy
Directions:
Bake your cake according to package directions, using two 8-inch round pans. Frost with your choice of chocolate or white frosting.
Use a fork to create a basket weave pattern in the frosting on the side of the cake by alternating inch long horizontal and vertical lines with the fork tines.
Shake coconut in a bag or jar with a few drops of green food coloring until evenly tinted. Sprinkle on top of the cake to create the Easter basket grass.
Place candy eggs and other Easter candy on top of the coconut.
Create the basket handle by rolling aluminum foil and then bending it to form the handle. Wrap the foil with green or pink ribbon, using a glue stick to secure. Carefully, insert the ends of the handle into sides of the cake.
More Easter recipes
Elegant Easter desserts
Leftover Easter candy recipes
Easter food and wine pairings