Best spring fruits and vegetables
Though in-season produce varies by region and climate, here are some spring fruits and vegetables that are usually abundant (and inexpensive) in most areas of the country. Add these fresh fruits and veggies to your table this spring.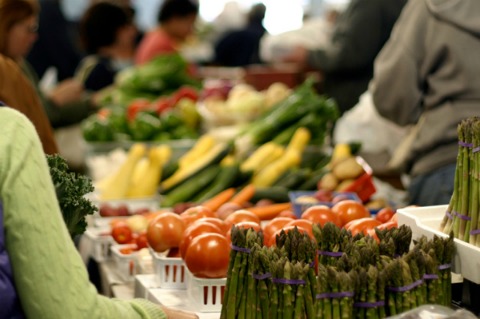 Apricots
In the springtime, apricots should be aromatic and heavy. If the fruit is light, then it's not going to be very juicy or flavorful when you get it home. Apricots are great on their own but make a wonderful dessert when sliced on top of vanilla ice cream.
Artichoke
If your kids haven't tried artichoke yet, spring is a good time to let them experiment. These rich, flavorful vegetables take a little effort to eat but are worth it. Cut off and discard the stem and then use cooking scissor to trim away the thorny tops of each leaf. To make artichokes, you can simply steam them until they are tender. When eating, dip the leaves in melted butter and lemon, or kids might also like them with ranch dressing.
Asparagus
In the spring, asparagus is more widely available and much cheaper than it is other times of the year. You can cook asparagus in a variety of ways -- grilled, roasted, steamed, or even eaten raw in salads and on its own. If your kids won't dare try asparagus, sneak it into casseroles, hide it in pasta sauce or add it to ground beef.
Peas
Your kids may have acquired an aversion to peas back when they were chowing down (or spitting out) baby food. If that's the case, you need to reintroduce them to these sweet veggies in new ways this spring. Start mixing peas with other veggies at first to create an enticing medley. Then slowly incorporate them into other foods -- everything from salads to meatloaf. Fresh peas are in season almost everywhere. You can simply sauté or steam them, or just eat them raw.
Strawberries
Head to your local farmers market for fresh, ripe strawberries. Better yet, find a you-pick-it farm where kids can get out and pick their own. Strawberries are one of the best things about spring. Though these juicy fruits are great on their own, you can also add them to salad, salsa, muffins and more. Buy them in bulk when they are fresh and then freeze them for later.
Beets, lettuce, radishes and most citrus fruits are also in-season during the spring. At your farmers market or local grocery store, you can find out what's in season. Look for produce that is fresh and cheap. Don't buy too much unless you are going to freeze it because you don't want your produce (and money) to go to waste.
More spring recipes
Healthy snacks for spring
Let lemons sweeten your spring
Healthy food substitutions for spring recipes