Feeding a family of four for under $20
You can create well-rounded, healthy meals for your family without breaking your budget. With smart shopping and a little planning, you can feed a family of four for under $20. Check out these tips and tricks to create delicious and nutritious family dinners on a budget.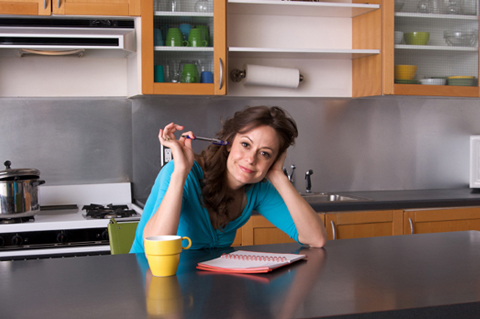 Plan ahead
Don't cook meals on a whim or grocery shop without a list. Plan ahead to keep your food budget under control. Sit down every Sunday and plan your dinners for the upcoming week. Keep nutrition in mind. You don't need to serve a bunch of junk to keep food costs down. Include plenty of fruits and vegetables, along with healthy foods that fill you up without being expensive -- brown rice, whole wheat pasta, sweet potatoes, beans and lentils.
Start with a salad
Every dinner should start with a salad. Salads are nutritious and inexpensive. Create your salads with lettuce, spring mix or spinach as the base, along with a mixture of raw seasonal veggies for variety. Entice kids by using plenty of color -- red and yellow pepper strips, broccoli florets, shoestring carrots and cherry tomatoes. Add toppers such as chopped walnuts for crunch and healthy omega-3s.
Choose cheap cuts of meat
Embrace your slow cooker. It's the easier way to turn cheap cuts of meat into juicy, tender perfection. Buy a large beef roast or brisket and then cook it all day on Sunday. Then, use the meat to make at least three meals throughout the week -- for example, tacos, chili, soup, etc. You can also grind your own meat to save some cash, and make sure that it's fresh and healthy.
Go vegetarian
You don't need to change your eating habits completely -- however you should consider going vegetarian at least three nights a week. Vegetarian meals are generally healthier and cheaper than their meat-base counterparts. Shop from your local farmers market to get seasonal produce, or grow your own veggies in your backyard.
Buy in bulk
Make room in your pantry and invest in a freezer. To keep your meal costs down, you need to be able to buy foods on sale and in bulk, when it makes sense. In other words, don't buy 10-pound jars of peanut butter if your family doesn't eat it. If you have a small pantry, remember that it's not the only place to store food. Canned goods can be put anywhere -- from under your bed, to your linen closet. If you don't have an extra freezer, buy a used one on Craigslist or from a used appliance store. Freezers usually last about 30 years, but look for one made in the last 10 because it will be more energy efficient.
Keep track of meal costs
To get you dinner costs under $20 for a family of four, you need to keep track of what you are spending. You can use a notebook, make an Excel spreadsheet or try an app. Try the Menu Planner app for your iPhone or iPad to create meal plans, import recipes from websites, keep track of what's in your pantry and integrate everything into shopping list.
10 Family meals under $20
With each of these meal ideas, you can feed a family of four for under $20. Remember to add a healthy salad to start each meal.
More about budget meals
Budget meals for busy moms
6 Ingredients to stretch your food budget
Cheap chicken recipes