Not the Perfect Cook: Lava cake in a crock pot
If you are like me, Not the Perfect Cook, but you love a perfectly delicious chocolate dessert, look no further!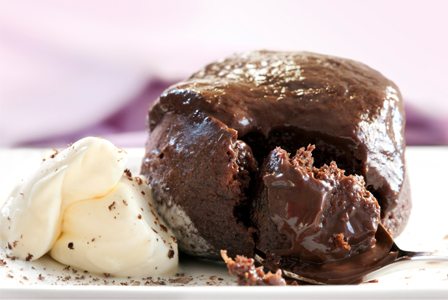 I envision Heaven smelling like gardenias and jasmine on one side — and chocolate on the other. Brownies are my favorite dessert. Until I came up with this recipe, that is. I make my Molten mocha chocolate lava cake in a crock pot because I get the best of both worlds. A brownie like consistency on the outside, oozing chocolate on the inside.
The most difficult aspect of this recipe is the 2 hours it takes in the crock pot. After 2 hours of smelling this heavenly mixture, get ready to taste pure fabulousness! So if you are looking for a dessert that is delicious, easy and will render you speechless, look no further.
Molten mocha chocolate cake in a crock pot
Serving size 6
Ingredients:
1 stick of butter, melted
4 large eggs, beaten
1 tablespoon vanilla
1-1/2 cups sugar
1 cup all-purpose flour
1/2 cup unsweetened cocoa
Pinch of salt
1 tablespoon instant coffee (flavor of your choice)
Sliced strawberries or raspberries for garnish
Vanilla ice cream or homemade whipped cream (also for garnish)
Directions:
In a large bowl, combine dry ingredients.
Add butter, eggs and vanilla to dry ingredients, stirring well to incorporate all ingredients.
Spray crock pot very well with cooking spray.
Pour mixture inside of crock pot.
Cover and cook on low for 2 hours.
After 2 hours, turn off heat. The edges will be cake/brownie like and the center will have a gooey ooze factor.
More chocolate recipes to try
Chocolate espresso lava cakes
Chocolate bread pudding
Chocolate cake bars