3 Desserts served on a stick
Figuring out what your kids will eat is sometimes like trying to find a needle in a haystack -- or can be downright impossible. However, one thing that almost every single kid will gobble down in a second is a treat on a stick. Maybe it's due to the portability or the fact they can be eaten in one foul swoop -- desserts on a stick are one sure way to satisfy your kid's sweet tooth and still manage portion control. Plus, they make great birthday party treats and are even loved by adults, too!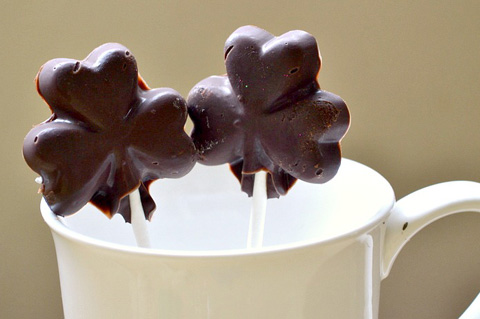 Not only are portable desserts a rage among kids, they are taking the wedding, baby shower and private party world by storm too! Hop onto this delicious bandwagon and make your family some portable, adorable and down right delicious snacks they'll gobble up!
Chocolate lollipops
Yields 6 lollipops
These four-leaf-clover-shaped lollipops make the perfect dessert for St. Patrick's Day, as well as for any spring birthday party! With just a dash of food coloring and some white chocolate, the color possibilities are endless! For more great lollipop shapes, check out Wilton!
Ingredients: 
Regular chocolate: 
1/3 cup milk chocolate chips
1/2 tablespoon butter
2 teaspoons milk
White chocolate: 
1/2 cup white chocolate chips
1/2 tablespoon butter
3 - 4 teaspoons milk
Food coloring
Directions: 
Melt chocolate, milk and butter (both kinds) in microwave safe bowls for 2 minutes, stopping to stir the mixture at 30 minutes.
Separate the white chocolate batter among three bowls. Add food coloring to two of the bowls. Place a lollipop stick into the cavity so the top is right in the middle. Using a pastry bag or a spoon, carefully fill the lollipop cavities with melted chocolate, covering the top part of the stick. Place in your refrigerator on a level surface and chill for at least an hour, or until chocolate sets.
Decorate with icing gels and enjoy!
Cherry pie on a stick
Yields 8 pie pops
Pie is an All-American classic, but is sometimes a pain to eat and clean up. Save yourself the time and make bite size pie on a stick! Each flakey pie is filled with your favorite fruit filling and makes clean up and eating a cinch!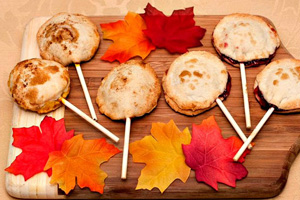 Ingredients: 
1 refrigerated pie crust
1 tablespoon butter
1 cup tart cherries
1/4 cup sugar
1 tablespoon corn starch
1 teaspoon brown sugar
Directions: 
Preheat oven to 375 degrees F. Cover baking sheet with parchment paper and spray with nonstick cooking spray.
Roll out pie crusts on a floured surface. Using a small, round cookie cutter, cut out eight circles with the crust, or until you've run out of crust.
Place cherries in a saucepan and heat over medium heat until they release their juices and come to a simmer, about 10-15 minutes (be sure to stir often). Mix corn starch and sugar and pour into the cherry mixture, stirring well. Return to a lower heat and simmer until sauce thickens. Remove from heat and chill.
Using a small spoon, carefully spoon filling into eight of the circles and leave the edges dry. Place a lollipop stick into the filling, pressing very lighting into the dough. Place another circle of dough on top of the filling and press firmly around the edges. Place a small sliver cut into the top of the dough to allow air in.
Using a pastry brush, brush tops of pops with melted butter and sprinkle with brown sugar. Bake until golden, about 20 minutes.
Chocolate cake pops
Yields about 25 cake pops. Recipe adapted from Little Miss Momma.
Cake pops have a reputation for being extremely hard and daunting, but don't let that stop you. This recipe is super easy (it uses box cake mix and frosting from a can) and is even fun to do with your family!
Ingredients: 
Box of devil's food cake (plus ingredients listed on the box)
1/2 package chocolate frosting
White chocolate chips
Lollipop sticks
1 tablespoon shortening or butter
Directions: 
Line a 9 x 13-inch cake pan with foil and spray with nonstick cooking spray.
Prepare cake mix according to box and bake until a toothpick inserted comes out dry. Let mixture cool completely before you try to assemble pops.
Once mixture has cooled, remove cake from the pan and place in a large mixing bowl (you may have to break it up). Then using your hands, crumble the rest of the mixture up. Using a spoon or your hands, mix in the frosting until the mixture is fully moist.
Roll chocolate dough into 1-inch balls and set aside. Melt chocolate in the microwave with butter or shortening for 2 minutes, stopping to stir at 30 second intervals. Dip one end of the stick into the chocolate and stick that into the cake ball, about 1/4-inch in. Once all cake balls have been put on sticks, dip them carefully into the remainder of the melted chocolate and drip off excess.
Place pops stick side down and let chill for at least an hour, or until the chocolate sets. Once the shell is hardened, you can decorate with fun icing gels or sprinkles!
More kid-friendly dessert recipes
Cooking with kids: Dessert recipes
Desserts on a stick
5 Fun (and simple!) dessert ideas for families