Mini chicken pot pies recipe
Pot pies are always comforting to eat on a cold day, but these mini pot pies are good enough to enjoy with your family anytime. Simple and delicious with chunks of chicken and veggies topped with flaky puff pastry -- this is a recipe that you will make over and over again.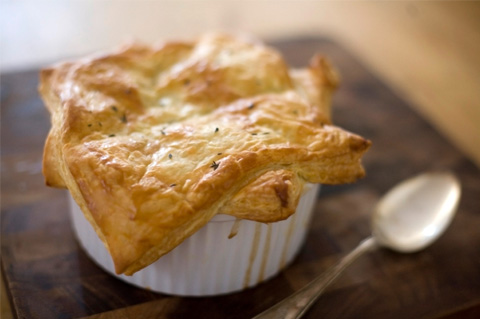 A classic dish individually portioned for your little ones
To finish the mini pot pies, carve out special shapes or letters of your kids' initials on top of the crust so they know they're made just for them. Everyone will be asking for more!
Mini chicken pot pies recipe
Serves 6-8
Ingredients:
Olive oil
2 chicken breasts
1 garlic clove, diced
1 onion diced
1 carrot, diced
1 celery stalk, diced
1 cup potatoes, diced
2 cups mushrooms, diced
2 tablespoons flour
1-1/2 cups chicken broth
2 tablespoons cream
2 tablespoons dried herbs
1/2 cup frozen peas
Salt and pepper, to taste
2 sheets store-bought frozen puff pastry, defrosted
Directions:
Heat oven to 375 degrees F.
Rub chicken breasts with olive oil, salt and pepper and place on a baking sheet. Roast for 40 minutes, or until cooked through. Set aside until cool, then cut the chicken into large cubes. This will make about 5 cups cubed chicken.
Heat olive oil in a large pot over medium heat and add garlic, onion, carrot and celery. Cook until onions are translucent, about 2 minutes. Add mushrooms and potatoes, then season with salt and pepper. Cook until mushrooms reduce, about 5 minutes.
Sprinkle flour over vegetables and cook for 2 minutes. Stir in broth and cream, mix until smooth. Bring mixture to a simmer and cook for about 5 minutes, until slightly thickened. Turn heat off and stir in chicken, herbs and frozen peas. Season with salt and pepper, if needed.
To prepare pot pies cut a 1/2-inch strip of puff pastry dough. Dampen edges of 6-8 ramekins with water and wrap pastry strips around the ramekin tops. Fill each ramekin with the chicken and vegetable filling. Cut out large enough circles for the lids. Dampen the tops of the strips and top each pie with pastry circles sealing the edges with a fork. Add fun shapes or letters on top of the crust. Cut slits in the top of each pie for venting. Place each ramekin on a baking sheet and cook for about 25-30 minutes, until tops are golden brown. Cool before serving.
More pot pie recipes
Cornbread topped chicken pot pie recipe
Quick tuna pot pie recipe
Sausage pot pies recipe
---
More From SheKnows Explorer
---
---