5 Kitchen tools that cut down on calories
Choosing healthy ingredients is the first step in creating diet-friendly dishes for your family. But how you cook those ingredients is the ultimate guarantee that your meals are good-for-you. Here are five kitchen gadgets that will cut calories and help you make family-friendly healthy meals.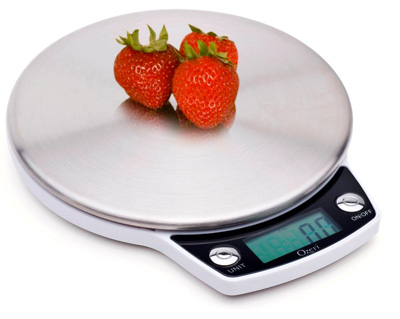 Kitchen scale
Portion control is key for healthy eating and weight loss. One of the best ways to cut calories is to first know the amount of calories in your food choices so you can adjust your intake. Though many foods come in single serving sized packaging, grains, fresh produce and snack foods are bought in larger quantities. Partner a kitchen scale with online calorie counting, such as CalorieKing.com, to learn how many calories are in a weighted serving size (look at the nutrition label of your packaged foods for the weight of a single serving) of your daily foods. This is tedious initially, but you'll quickly be able to eyeball many foods to know if your portions are super-sized. Bonus: Weighing your ingredients before cooking or baking gives you the ability to know the calories per serving of your favorite recipes. Our favorite kitchen scale is the Ozeri Precision Pro Stainless Steel Digital Scale ($25), which features a flat base that can hold up to 11 pounds, measuring in grams, ounces, pounds or kilograms. This handy gadget also has a tare button to calculate net weight if your ingredients are in a cup, bowl or plate.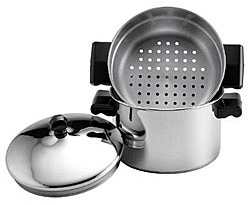 Vegetable steamer
Lightly steaming vegetables is a quick way to prepare veggies for your family without all the fat and calories from sautéing in butter or oil, or by frying. You can buy a stainless steel steamer insert that can fit inside one of your large pots or you can buy a steamer set that comes with a pot and insert, a bamboo steamer, or a stand-alone steamer appliance. Our favorite steamer is the stainless steel Farberware Stack N Steam Saucepot and Steamer Set ($37), which includes: a 2-quart steamer that fits inside the 3-quart saucepot, cool-touch handles, and rolled pot rims for drip-resistant pouring. This particular steamer set is also oven-safe to 350 degrees F.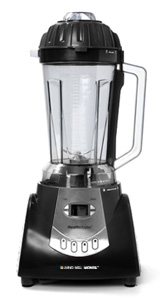 Blender
Blenders may not cut the calories of a cheesecake, but if you have a reliable blending appliance, you have what you need to make healthy protein smoothies (instead of snacking on doughnuts), hot silky vegetable and bean soups (which are lower in calories than cream-based soups), skinny versions of pesto, sauces and more. You can also use your blender to make your own specialty coffee drinks, sans all the sugar, as well as purée beans or fruit to add to baked goods, in place of the fat to skim calories without sacrificing moistness or texture. We've found that paying a little more for a blender will score you better performance and longer shelf-life as compared to cheaply-priced models. Our favorite blender is the heavy-duty HealthMaster Elite Fruit and Vegetable Emulsifier ($240) gives you the ability to make everything from cool smoothies to hot soups. The Elite features: digital controls, a 70-ounce BPA-free container, stainless steel uni-body blade, tamper, and is available in three colors. In addition, you get a garden fresh recipe collection and weight loss eating plan.

Oil mister
Although convenient and low-cal, aerosol cans of nonstick spray are full of chemicals and never taste like oil or butter. However, pouring olive oil or melting butter in a skillet can add more calories than you need. The healthiest way to keep your food from sticking to pans is to use an oil mister, which is essentially a refillable canister that sprays oil. This handy kitchen tool: saves you calories, money, is kind to the environment, and is better for your cookware, because natural oils won't build up like artificial aerosol sprays. Best yet, an oil mister gives you the ability to evenly dress green salads or vegetables. You don't have to stop at olive oil -- a mister can be filled with any oil, including toasted sesame, walnut, peanut, or flax oils. Check out the Misto Olive Oil Sprayer ($10), which you fill with oil, pump the top to fill the canister with air, then spray.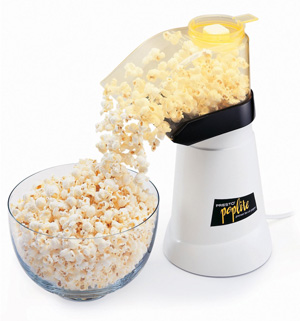 Air popper
Those golden kernels of unpopped corn are loaded with whole grain nutrition that quickly gets countered when processed with chemicals and fat in the microwavable bag or eaten by buttery handfuls in the movie theater. An air popper will drastically cut calories (and save you money) by dry popping corn kernels instead of dousing them with oil or butter. Air poppers are especially fun if you have kids who are entertained by gadgets that pop. Just beware that some air poppers can blast hot kernels out of the chute. Three cups of air-popped popcorn comes in at around 100 calories and 1 gram of fat while oil popped corn can deliver double the calories and 15 grams of fat — a mere tablespoon of melted butter comes in at whopping 120 calories (and keep in mind, a tablespoon isn't much). We love the Presto PopLite Hot Air Corn Popper ($20), which can pop up to 18 cups of popcorn in less than 3 minutes, pouring perfectly popped kernels right into your bowl.
More kitchen gadgets we love
4 Time-saving gadgets for fast meals
Must-have multi-functional kitchen appliances
5 Really useful kitchen gadgets