Irish nachos recipe
Traditionally associated with Tex-Mex or Mexican food, nachos are crispy, gooey and satisfying. Try these delicious nachos with a kid-friendly Irish spin at your St. Patrick's Day celebration.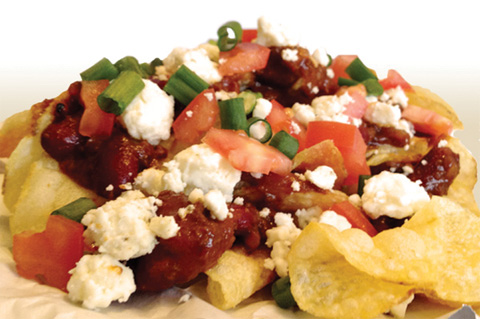 We've come a long way since the days of beer nuts and pickled eggs. In the modern era, bars are expected to have a variety of foods to compliment their selection of beers. And many of these pub-friendly favorites can also become a staple of your at-home cooking! Irish nachos are a fun fusion of nachos with Irish flavors. Your kids will love these crispy pub-style chips smothered in rich chili and other favorite toppings.
Irish nachos recipe
Ingredients:
1 (8.5 ounce) bag kettle-style potato chips
1/2 recipe Guinness chili (recipe here)
2 - 4 ounces Irish Cashel blue cheese or gorgonzola, crumbled
3 - 4 green onions, chopped
2 roma tomatoes, diced
Directions:
Arrange the chips on a large platter (lined with parchment for easier cleanup if desired).
Top with chili, bleu cheese, green onions and tomatoes.
More nacho recipes
Buffalo chicken nachos recipe
Popcorn shrimp nachos recipe
Super veggie nachos recipe