3 Gluten-free make ahead meals
With the number of people (kids, especially) being diagnosed with Celiac disease and gluten sensitivities, the times when gluten-free was just a fad are way over. If you or your family are a part of the millions who can't digest wheat, don't get discouraged. There are still so many delicious recipes out there, including these hearty make-ahead meals! Not only are each of these savory and mouth-watering stews and entrees gluten-free, they are easy to make and store for up to 3 days!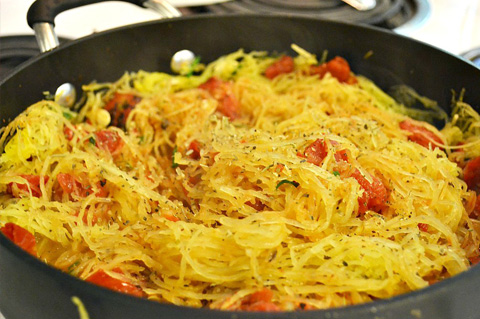 With schedules pilling up, time-saving dishes are a complete life saver in so many American homes. So this week, save your time (and your tummy) with these gluten-free, make-ahead meals! Rest easy knowing you are feeding your family a nutritious meal and are able to spend more time with them too!
Italian seasoned spaghetti squash
Serves 4
Spaghetti squash is the perfect gluten-free alternative to pasta because it has the same texture and look as normal spaghetti! Paired with diced tomatoes and Italian herbs, this is a close runner up to traditional spaghetti! You can make this dish up to 3 days before you plan on eating it!
Ingredients: 
1 large spaghetti squash
1 can of Italian seasoned diced tomatoes
1-1/2 tablespoons of Italian seasoning
4 fresh chives, chopped
3 tablespoons butter
Freshly grated Parmesan cheese to taste
Directions:
Preheat oven to 375 degrees F. Cut spaghetti squash in half and remove seeds. Place cut side down in a deep baking dish and add enough water to come 1/2-inch up the sides of the dish and cover with aluminum foil.
Bake for 45 minutes, until the squash is easily pierced with a paring knife. Turn squash over and cover with foil again and continue to cook another 15 minutes, until the squash is very tender.
Remove from pan and allow to cool for a minute. Then, using a fork, gently remove the spaghetti squash and set aside. In a medium saucepan, heat butter. Add chives, squash and herbs, heat slightly. Add tomatoes. Heat for about 5 minutes until mixture is warmed and thoroughly mixed together. Serve with cheese and enjoy!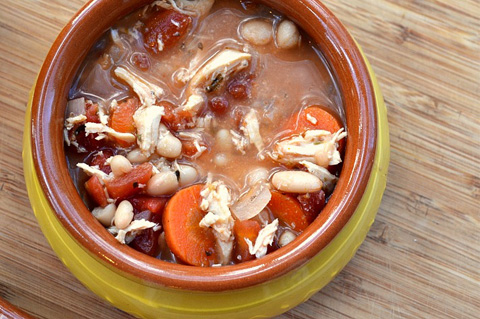 Chunky chicken chili
Serves 5
The perfect way to enjoy chili, regardless of the temperature outside! Hearty with beans and chicken but lighter than most, and can be made in a crockpot up to 2 days before you eat it!
Ingredients: 
About 1 pound of boneless, skinless chicken breasts
2 cans of white beans, drained and rinsed
1 can (14.5 ounces) of diced tomatoes
2 cups of organic, low-sodium chicken broth
1 medium onion, chopped
3 medium carrots, chopped
3 garlic cloves, chopped
1 bay leaf
2 tablespoons parsley
Liberal dashes of salt and pepper
Directions: 
Put chicken in a 4-quart crock pot. Pour broth, beans, tomatoes, onion, carrot, garlic and all herbs over chicken. Add dashes of salt and pepper.
Set on low and cook for about 7 hours. Once chicken is done, remove from crock pot and shred with two forks in a separate bowl. Add chicken back to the vegetable mixture and cook an additional hour so chicken soaks up the flavor.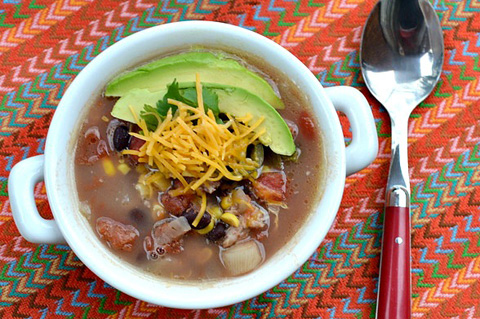 Spicy pork Mexican stew
Serves 4
This dish is perfect for the spicy, Mexican food lovers in your family. Made with zesty tomatoes and jalapenos, this dish will kick start your metabolism in addition to slightly burn your mouth! It can also be made up to 3 days ahead of time in a crockpot.
Ingredients: 
About 1 pound pork roast
1 can (14.5 ounces) zesty diced tomatoes with green chiles
1/2 jalapeno
1 medium onion, chopped
1 green pepper, chopped
14.5 ounces chicken broth
12 ounces of canned corn, drained
1 (14.5 ounces) can of black beans, rinsed
Liberal dashes of salt and pepper
4 tablespoons finely chopped fresh cilantro
Sour cream for garnish
Cheddar cheese for garnish
1/2 sliced avocado for garnish
Directions: 
Place pork roast in a 6 quart crock pot. Pour the rest of the ingredients over it (including cilantro) and cover. Set on low heat and simmer for 6 to 8 hours, or until pork reaches 160 degrees in the center.
Remove pork from soup mixture and shred using two forks. Place back into the crock pot, turn off heat and let sit for 30 minutes to absorb flavor. Garnish with sour cream, cheddar cheese and avocado!
More gluten-free recipes
Gluten-free BBQ recipes
Gluten-free pasta with truffle butter recipe
Gluten-free party recipes