Taco cupcakes
Enjoy all of your favorite taco ingredients baked into a taco cupcake. These are a great mess-free way to serve tacos for a crowd, and the kids will love taco night served up in cupcake form.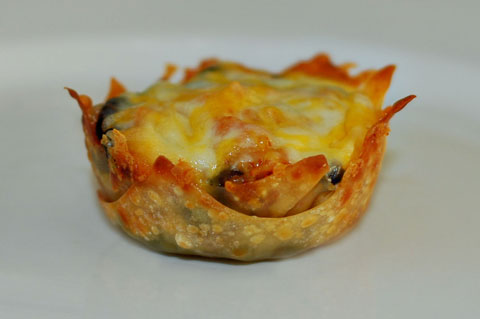 Tacos are delicious, but they can also be messy, particularly when you serve them to kids. Mess won't be a problem with easy-to-manage taco cupcakes. If you're anything like me, you'll appreciate that you can even eat them one handed while you help the kids or hold a wiggly baby with the other hand! These can be served up as an appetizer at your next family gathering, or as dinner the next time you are in the mood for a little South-of-the-border cuisine.
Taco cupcakes
Makes 12 taco cupcakes
Ingredients: 
24 wonton wrappers
1 cup cooked ground beef (approximately 1/2 pound) 
1 tablespoon taco seasoning
1/2 cup salsa
1/2 cup canned black beans, drained
1/2 cup frozen corn
1/2 cup shredded cheese
Directions:
Preheat the oven to 375 degrees F.
Place the ground beef in a skillet and sprinkle with the taco seasoning. Brown the ground beef in the skillet until the meat is thoroughly cooked. Drain away any liquid and set the beef aside.
Spray the bottom of a 12-cup muffin tin with non-stick cooking spray.
Layer two wonton wrappers in the bottom of each section of the muffin tin.
In a medium bowl, combine ground beef, salsa, black beans and corn.
Spoon the beef mixture evenly into all 12 sections and sprinkle with shredded cheese.
Bake for 20 minutes until wonton wrappers become crispy.
Hint:  For a vegetarian alternative, substitute 1 cup Mexican rice for 1 cup beef.
More Mexican recipes
Family-style Mexican recipes
Mexican pizza recipe
Authentic Mexican guacamole recipe