3 Easy snacks for under 100 calories
In a world of very picky eaters and very cheap fast food, finding healthy snacks that both you and your family will enjoy is always a battle. Instead of stressing out trying to find healthier snacks your family will love (and will keep you svelte) try one of these delicious, easy and healthy snack recipes! With each snack having fewer than 100 calories, you can indulge guilt free and your kids can fuel up and get their essential nutrients.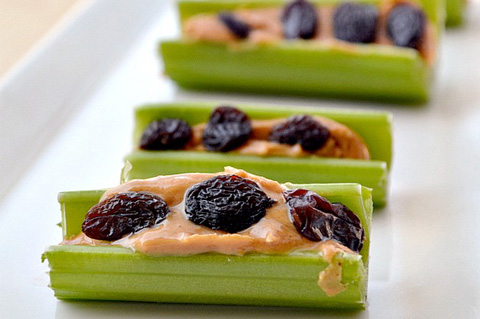 Snacks like ants on a log, deviled eggs and trail mix are so tasty, it's hard to believe they are not only healthy, but are under 100 calories! Whether you are on the go from work to school, to soccer practice, or are just looking for a fun snack to enjoy before dinner, these bite size morsels will surely wow your family and keep your weight in check at the same time!
Ants on a log
Yields 6
Ingredients: 
2 medium celery stalks, cut into thirds
2 tablespoons low-fat peanut butter
18 raisins
Directions: 
Wash celery thoroughly with water. Dry off. Place about 1/3 tablespoon of peanut butter into the cavity of each celery stick and spread it. Place 3 raisins on each and enjoy!
Light deviled eggs
Yields 6 eggs
Ingredients: 
3 eggs
1/4 cup low-fat Greek yogurt
1/2 teaspoon paprika
1/8 teaspoon salt
1/4 teaspoon pepper
Fresh basil as garnish
Directions:
Place eggs in a large pot and cover with water. Bring water and eggs to a boil (about 4 minutes) and immediately remove from heat. Cover pan and let eggs sit for at least 15 minutes.
Carefully remove shells from eggs. Cut each hard-boiled egg in half and scoop out the yolks, placing them in a medium bowl.
Mix egg yolks, salt, pepper and Greek yogurt together. If mixture is too dry, add additional Greek yogurt. Using a spoon, scoop yolk mixture into each egg. Sprinkle with paprika and garnish with fresh basil leaf.
Easy trail mix
Yields about 1 cup
Ingredients: 
1/2 cup Cheerios cereal
2 tablespoons chocolate chips
2 tablespoons peanuts
1 tablespoon raisins
1 tablespoon pistachios
Directions: 
Mix cereal, chocolate chips, nuts and raisins together. Add salt to taste and enjoy!
Eating healthy was never so easy or so delicious!
More quick and easy healthy recipes
Quick and easy healthy dessert ideas
21 Homemade snacks under 100 calories
Easy healthy bean recipes for summer