Three must-have frozen meals for after delivery
Every new mom has heard it before: The closer you get to delivery the better it is to double recipes and freeze half -- providing you and your spouse with easy and ready-to-eat meals at your fingertips. As a new mom-to-be the thought of cooking double can be a bit daunting, but the thought of hot food fast after baby arrives, is incredibly tempting. Here are three must-have recipes to double and freeze for those days when nary a kitchen gadget is to be used and two very tired adults need dinner on the table.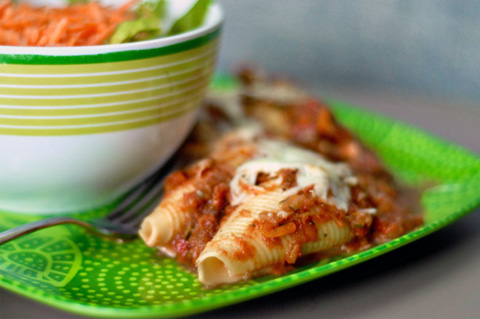 Crockpot vegetable spaghetti sauce
Serves 12
This can be frozen in Ziploc bags flat in the freezer and heated up whenever dinner needs to be ready; serve hot over your favorite pasta shape! If you need added protein it's also great mixed with crumbled Italian sausage (pork or turkey).
Ingredients:
4 large carrots, shredded
1 large onion, shredded
3 stalks celery, shredded
3 zucchini, shredded
4 cloves garlic, minced
2 cups sliced mushrooms
2 (28 ounces) cans crushed tomatoes
Salt & pepper to taste
3 tablespoons dried basil
1 tablespoon dried oregano
1/2 tablespoon crushed red pepper flakes
1 teaspoon dried rosemary
1 teaspoon thyme
Directions:
Shred all of the veggies. However, you could chop them all and still have a delicious sauce.
Combine all ingredients in your slow cooker, and set on low for 6-7 hours, or high for 3-4 hours.
The ultimate slow cooker chili
Serves 12
Ingredients:
1 pound ground beef or ground turkey
1 pound hot Italian sausage
2 cups pinto beans
1 small onion, diced
1 red bell pepper, diced
4 large carrots, diced
1 (15 ounce) can diced tomatoes
1 (8 ounce) can tomato paste
2 cups chicken stock
2 tablespoons chili powder
1/2 tablespoon cayenne pepper (more if you want more heat)
2 teaspoon garlic powder
1 teaspoon cumin
1 teaspoon oregano
1 teaspoon salt
1 teaspoon pepper
Directions:
Brown the ground meat, sausage and add to a greased slow cooker.
Mix together all other ingredients and add to the slow cooker.
Cook on low for 7-8 hours. Serve with your favorite toppings and freeze the rest in plastic freezer bags (which can be flattened to save space).
Simple enchilada casserole
Serves 6
Ingredients:
12 corn tortillas
1 can chopped green chiles
1 can cream of chicken soup
4 ounces sour cream
2 cups diced chicken
2 cups fresh spinach
1 cup shredded cheese
Directions:
In a large bowl mix together the chiles, soup, sour cream and diced chicken.
Spray a 9 x 9-inch pan with nonstick spray and layer four tortillas in the bottom (it's okay if they overlap).
Spread with a 1/4 of the chicken mixture, and layer 1/2 a cup of spinach on top. Sprinkle with 1/4 cup of the cheese.
Repeat three more times and then cover with aluminum foil.
Bake at 400 degrees F for 15-20 minutes until bubbly. Then remove the foil and let the cheese brown on top. Serve hot.
More easy recipes
5 Quick and easy pork recipes
3 Easy vegetarian main dishes
3 Simple suppers using French bread