Tasty tilapia recipes
Tilapia is a mild-flavored versatile white-flesh fish that is not only budget-friendly, but also can be quickly transformed into a flavorful fish dinner. Here are three tasty tilapia recipes that are impressive enough to serve on special occasions but also easy enough to serve as family-pleasing everyday dinners.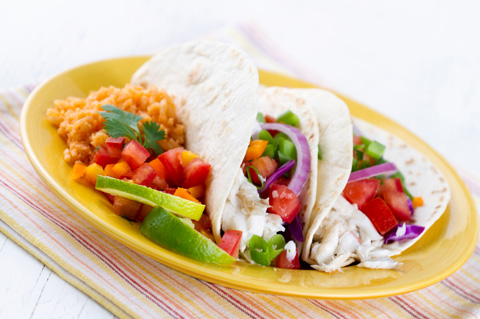 Fast fish tacos
Serves 4
A spicy rub for the fish and chipotle sour cream to finish off the dish will quickly turn this tilapia taco recipe into a family favorite.
Ingredients:
1 cup sour cream
1 to 2 tablespoons chipotle in adobo sauce, minced
2 tablespoons minced fresh cilantro
1 teaspoon paprika
1 teaspoon ground cumin
1 teaspoon ground coriander
1 teaspoon dried oregano
1 tablespoon brown sugar
Salt and freshly ground black pepper
Zest and juice of 1 lime plus lime wedges for serving
1/4 cup olive oil, divided
4 (6 ounce) tilapia fillets
4 whole wheat tortillas, warmed
1 avocado, halved, peeled, pitted, sliced
Directions:
In a small bowl, whisk together sour cream, chipotle and cilantro. Set aside.
In a second small bowl, combine paprika, cumin, coriander, oregano and brown sugar. Add a generous pinch of salt and a few grinds of black pepper. Add lime zest and juice and 2 tablespoons olive oil, mixing ingredients until well combined.
Rub tilapia on both sides with spice rub. Heat remaining oil in a large skillet over medium-high heat. Add tilapia and cook for 4 minutes. Use a spatula to carefully flip fillets and cook for 4 more minutes or until fish flakes when pressed with the back of a fork.
Serve fish in tortillas garnished with avocado slices and sour cream.
Tilapia au gratin
Serves 6
Ingredients:
1-1/2 cups bread crumbs
1/4 cup unsalted butter, melted
1/4 cup shaved Parmesan cheese
1/4 cup shredded provolone
1-1/2 pounds tilapia fillets
1 (15 ounce) can cream of celery soup
1/4 cup milk
1/4 cup fresh dill
Directions:
Preheat oven to 400 degrees F and grease an 11 x 7-inch baking dish.
In a small bowl, combine bread crumbs, butter and cheeses. Set aside.
Arrange tilapia in the prepared baking dish. In a medium saucepan over medium-low heat, stir together soup, milk and dill until heated through.
Pour soup mixture over tilapia and sprinkle with bread crumb mixture.
Bake for 10 to 15 minutes, or until golden on top and fish flakes when pressed. Serve hot.
Grilled tilapia with pesto
Serves 6
Topping grilled tilapia with pesto and serving it with rice is an easy and delicious dish that you can have on the table in 20 minutes.
Ingredients:
1-1/2 cups jasmine or basmati rice
3 cups water or vegetable broth
6 (6 ounce) tilapia fillets
2 tablespoons olive oil
Salt and freshly ground black pepper
3/4 cup store-bought pesto or homemade pesto
1 cup sun-dried tomatoes packed in olive oil, chopped
Directions:
Stir together rice and broth in a medium saucepan over high heat. Bring to a boil. Reduce heat to low, cover, and simmer for 20 minutes or until liquid is absorbed.
Meanwhile, preheat grill to medium heat. Rub tilapia with oil and season with salt and pepper. Place tilapia in a grill basket. Grill for 4 minutes per side or until fish just flakes.
Mix sun-dried tomatoes with the rice. Serve tilapia on top of rice with pesto spooned over the fish.
More tasty tilapia recipes
Pecan crusted tilapia
Orange glazed tilapia
Dijon tilapia cakes