6 Ingredients to stretch your food budget
Stock your kitchen with these six money-saving ingredients and you'll always have great meals on your table and green in your wallet. From grains and beans to eggs and potatoes -- we'll show you how to put budget-friendly foods to delicious use.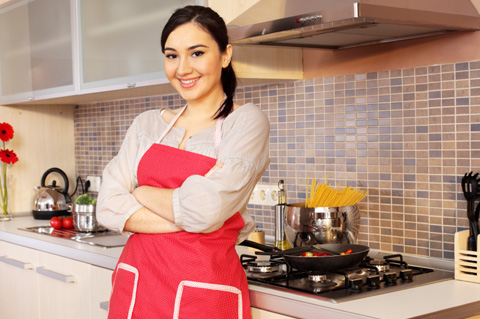 Rice
Visit the bulk section of your local supermarket or health food store and stock up on rice. White rice, basmati rice, brown rice, jasmine rice and even wild rice are often more economical when bought unpackaged. Rice is an inexpensive dry ingredient that can keep for months in your pantry. Not only does it shine as a cheap and easy side dish, it can stretch other recipes. Add rice to soups, stews, casseroles, curries, stir-fry recipes and burritos — to give meals budget-friendly bulk.
Pasta
Dry pasta is another super cheap staple that comes in near countless shapes and can be featured as a fast lunch or dinner dish. One-pound packages of pasta can be found for under $1 each. Check your supermarket circulars for sales, buy in bulk at big box stores, and don't be afraid to buy pasta in the food section of general merchandise stores, such as CVS. Pasta can be served hot or cold, as a main dish or side, and with any vegetable or meat you have on hand.
Eggs
Not only are eggs nature's perfect protein, they are a go-to ingredient for the frugal cook. A dozen eggs can often be found for $1 and you can often buy larger packs of eggs for under $1 per dozen. Scout the big box store or supermarket prices on cases of eggs and go in with a few friends or neighbors to buy the larger quantity for cheap. Eggs can be served for every meal of the day: omelets for breakfast, quiche or egg salad sandwiches for lunch, egg fried rice for dinner and meringue-topped pies for dessert. Deviled eggs are also a winner as an inexpensive appetizer.
Beans
Dry or canned, beans are a cheap protein alternative that also deliver a delicious dose of fiber. Beans can be added to soups, stews, salads, grains and pasta to stretch recipes, puréed as dips or spreads, and used to bulk up burritos, enchiladas, casseroles, and any other dish that needs a budget-friendly boost of nutrition. Stock up on dry or canned beans when your local grocer has them on sale, or consider buying cases of canned beans at big box stores so you always have a healthy and convenient ingredient to add to your meals.
Potatoes
Potatoes are available in a tasty array of varieties, from baking and waxy potatoes to sweet potatoes. These economical tubers are also deliciously versatile in the kitchen and can be served for breakfast, lunch and dinner in near endless satisfying ways. Baking potatoes and sweet potatoes can be baked and loaded with veggies, meats and cheese. Waxy potatoes can be transformed into warm side dishes or cool salads. Potatoes can be roasted, mashed, baked, sautéed and fried. Look out for sales, buy in 5-pound bags, and visit your local farmers market for great deals — then use your culinary creativity to put this cheap ingredient to work in your wallet-friendly meal planning.
Canned tuna
Tuna is another excellent source of protein that is also easy on the family budget. Buying a case of tuna from your local grocer or purchasing 8-count packs of canned tuna from big box stores can get tuna below $1 per can. Buying chunk light instead of solid white albacore is another way to save money. Tuna can be added to pasta, grains, casseroles and salads as well as transformed into tuna salad sandwiches and tuna burgers.
More budget-friendly tips for your family meal planning
10 Money-saving tips for frugal moms
$10 Chicken dinner recipes
Dozens of cheap healthy lunches