$10 Chicken dinner recipes
Forget the fast food bucket of chicken and fix these three cheap chicken dinners at home.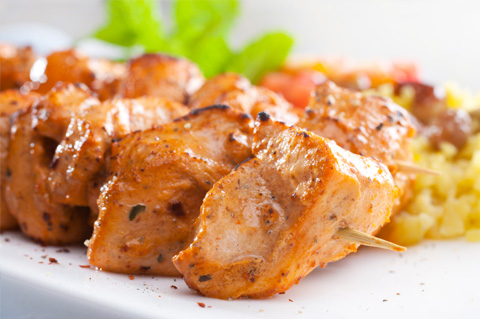 How to buy cheap chicken breasts
Boneless skinless chicken breasts are the healthiest choice when it comes to cuts of chicken, but they can also be a pricier option for poultry. However, you can still score budget-friendly chicken breasts by:
Watching your supermarket circulars for chicken sales and then buying extra — freezing 1-pound portions, so you always have cheap chicken on hand for meals.
Checking prices at your local big box and, if the price is right, buying bulk packages and freezing 1-pound portions of chicken.
Buying chicken breasts with skin and ribs attached — remove the skin, and grill or broil with bones intact. They add great flavor and give your family an excuse to eat with their fingers.
Honey mustard chicken skewers
Serves 4
You can't go wrong with honey and mustard on chicken. This easy recipe can be quickly cooked on the grill or broiled in the oven. Serve skewers with rice and roasted vegetables or a salad.
Ingredients:
Zest and juice of 1 lemon
1/4 cup honey mustard
3 tablespoons olive oil
2 garlic cloves, minced
1/2 teaspoon paprika
Salt and freshly ground black pepper
1 pound boneless, skinless chicken breast, cut into long strips with even thickness
Directions:
In a large bowl, whisk together lemon zest and juice, honey mustard, olive oil, garlic and paprika. Add a generous pinch of salt and a few grinds of black pepper.
Place chicken in the bowl and toss to coat well. Cover and marinate for 1 hour at room temperature or cover and refrigerate overnight.
Meanwhile, soak wooden skewers in water for about 30 minutes (skip this step if you are using metal skewers).
Preheat grill to medium heat. Thread 2 to 3 chicken strips on each skewer. Oil the grill grate.
Cook skewers for 7 to 9 minutes, turning skewers occasionally to ensure even cooking. Chicken is done when it is lightly browned and cooked through. Serve hot.
Green chile stuffed chicken breasts
Serves 4
This scrumptious chile cheese stuffed chicken breast dinner rings in at around $10 to feed a family of four.
Ingredients:
1(1-1/4) pound chicken breast, cut into 4 equally-weighted pieces
1 (7-ounce) can whole green chilies, drained
4 slices Monterrey Jack or pepper Jack cheese
1 cup unseasoned whole wheat bread crumbs
3 tablespoons minced cilantro
Salt and freshly ground black pepper to taste
1/4 cup melted butter
Directions:
Preheat oven to 375 degrees F and spray a baking dish with cooking spray.
Place chicken on a large sheet of plastic wrap and cover with a second large sheet of plastic wrap. Using the flat side of a mallet, pound chicken flat until it is about 1/4-inch thick. Discard top sheet of plastic wrap.
Pull whole green chilies apart into wide strips and lay on top of flattened chicken, leaving a 1/2-inch border. Top with a slice of cheese.
Roll chicken breasts jelly-roll style and secure with toothpicks or kitchen twine.
In a shallow dish, stir together bread crumbs and cilantro. Generously season with salt and pepper.
Place butter in a second shallow dish. Roll chicken breasts in butter then in bread crumbs. Place chicken breasts in prepared baking dish.
Pour any remaining butter evenly over chicken breasts. Bake for 25 minutes or until coating is lightly browned and chicken is cooked through. Serve hot.
Chicken chickpea curry
Serves 4
Curry is an inexpensive and bold way to add delicious flavor to chicken, chickpeas and rice.
Ingredients:
1-1/2 cups brown rice
3 cups water or chicken broth
3 tablespoons olive oil
1 pound boneless, skinless chicken breast, cut into 1/2-inch cubes
Salt and freshly ground black pepper
3 garlic cloves, minced
2 tablespoons minced fresh ginger
2 teaspoons curry powder or to taste
1 (15-ounce) can coconut milk, shaken well before opening
1 (15-ounce) can chickpeas (or garbanzo beans), rinsed, drained
1/4 cup chopped fresh cilantro
Directions:
In a large saucepan over high heat, bring rice and water or chicken broth to a boil. Reduce heat to low and simmer for 50 minutes or until rice is tender and liquid is absorbed.
About 20 minutes before rice is done cooking, start cooking chicken. Heat oil in a large skillet over medium heat. Add chicken and season with salt and pepper. Cook, stirring often, for 4 minutes.
Add garlic, ginger, curry and cook (stirring often) until chicken is cooked through.
Add coconut milk and chickpeas and bring to a simmer. Simmer for 5 minutes.
Stir in cilantro. Taste and season with salt and pepper. Serve hot over rice.
More tasty chicken recipes
Healthy chicken nuggets recipe
Chicken cordon bleu
Almost fool-proof roasted chicken