Ice cream cone cupcakes recipe
Have a birthday party coming up for one of your kids? Instead of making the traditional cake or cupcake, give your child a treat they'll never forget, birthday cake cupcakes cooked into an ice cream cone! These cupcakes look just like an ice cream cone, but are filled with soft, chocolatey cake and topped with rich buttercream. These are instant party favorites and are a cinch to make!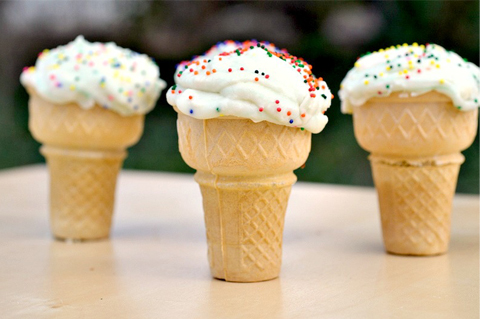 To just the naked eye, they look like regular ice cream cones! But once you bite into the crispy cone, you are surprised with moist, chocolatey cake. These make the perfect birthday party treat because they require very little clean up and are perfectly portioned! Wow your kids, their friends (and their moms) with these adorable cupcakes and win some serious brownie points with the PTA!
Plus, the cake is very customizable so you can make a few chocolate, a few vanilla, strawberry or funfetti!
Recipe adapted from Martha Stewart.
Ice cream cone cupcakes
Yields about 7 
Ingredients: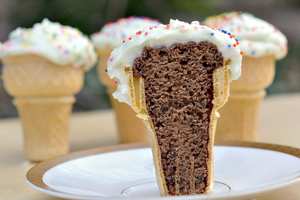 For the cake: 
6 sugar cones
1/2 teaspoon baking powder
3/4 cup all purpose flour
1/4 teaspoon salt
1/4 cup butter
1/2 cup sugar
1 large egg
3/4 teaspoon vanilla extract
2 tablespoons skim milk
For the frosting: 
3/4 stick butter, softened
2-1/2 to 3 cups powdered sugar
1 teaspoon vanilla extract
1 to 2 teaspoons milk
Multi-colored sprinkles
Directions: 
Preheat oven to 350 degrees F.
Tightly wrap foil around the base of each cone and place in a muffin pan. Add enough foil so that cones don't move with pan is moved.
In a large bowl, mix flour, baking powder and salt.
In another large bowl, beat sugar and butter until creamy. Add egg and beat well. Stir in vanilla. Add half of flour mixture, milk and the remaining flour mixture. Stir well.
Measure out about 1-1/2 tablespoons batter into each cone, filling the cone about 2/3 full.
Bake for 25 minutes, or until a toothpick inserted comes out dry. Let cones cool completely before you frost.
While cupcakes cool, prepare frosting by beating butter, sugar and vanilla together. Stir in milk. Once cupcakes have cooled, scoop frosting into a piping bag and frost each cone by squeezing and moving upwards. You want the frosting to look like ice cream. Decorate with sprinkles and enjoy!
*Keep cupcakes cool so the frosting doesn't melt.
More kid-friendly desserts
Brown sugar maple bacon ice cream
Jell-O dessert recipes
Peanut butter and jelly cupcakes