Homemade chocolate peanut butter oat bars
Need a healthy, super quick treat for your whining kids? Look no further than this 15 minute microwave oatmeal bars made with creamy peanut butter and chocolate! For about the time it takes to buy a box of granola bars, you can have your own, healthier versions made at home. What's better than that?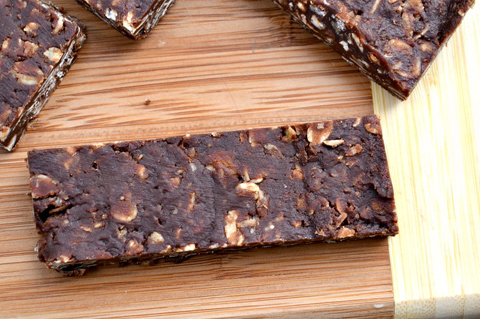 These bars are the epitome of quick and easy and since they are made with kid-approved ingredients like peanut butter and chocolate, they will quickly become favorites in your household. To save time in the future, make a huge batch so you can just grab and go on your way to soccer practice, work or even on a road trip! You can also add extra chocolate chips, nuts or M&M's to add some variety to each batch.
Recipe adapted from Love Veggies and Yoga.
Homemade chocolate peanut butter oat bars
Yields 6 bars
Ingredients: 
1 cup regular oats
4 tablespoons milk chocolate chips
6 tablespoons low-fat creamy peanut butter
2 tablespoons brown sugar
3 tablespoons skim milk
1 tablespoon melted butter
Directions: 
Melt butter, milk, chocolate chips and peanut butter in the microwave, stirring after 30 seconds, until completely melted.
Add oats and stir until fully mixed.
Press mixture into the bottom of a square cake pan and let chill for at least 20 minutes, or until mixture is hard. Cut into bars and enjoy!
More quick and easy recipes